Shop Local and Fresh at the Rancho Santa Fe Farmers Market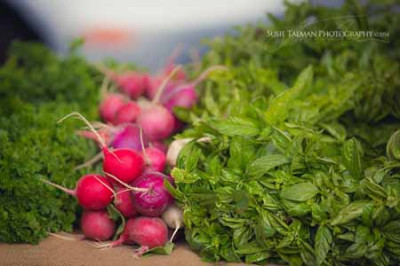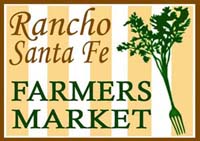 Dear Friends,
This Sunday, the Market is going to be packed full of amazing, colorful produce and artisan items! It is the perfect Sunday to browse through the Rancho Santa Fe Farmers Market, pick up your favorite Market meal and relax while you listen to Zinchiladas perform live.

DON'T FORGET, our weekly Rancho Santa Fe Certified Farmers Market is open from 9:00 AM to 1:30 PM in the Del Rayo Village Shopping Center. Look for your favorites and new vendors each week and check out the new tenants in the center while you are there.
Rancho Santa Fe Farmers Market is the perfect place for shopping local to fill your fridge with fresh produce and flowers, delicious treats, prepared meals to go and more!
Remember, to bring an ice chest in your car or on wheels so you can relax and enjoy a nice lunch made fresh for you right at the market. Take a few minutes to slow down and enjoy our live entertainment with your family and friends in the comfort of new Market umbrellas, bistro tables and cafe chairs!
Rancho Santa Fe Farmers Market … Make it a weekly habit. Let's go Shopping!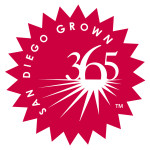 See you on Sunday,
Diane & Michael
619.743-4263
Diane@RanchoSantaFeFarmersMarket.com
www.RanchoSantaFeFarmersMarket.com
Located in the Del Rayo Village Shopping Center at 16079 San

Dieguito

Rd. Rancho Santa Fe, CA 92091

_____________________________________
Vendor Spotlight

Kalura Gardens

Beautifully potted succulents from our resident Master Gardner, Marion Happ. Be sure to stop by a visit with Larry and Marion and check out the new selections for fall. These make great house warming or hostess gifts and remember you can do custom orders for a one of a kind gift!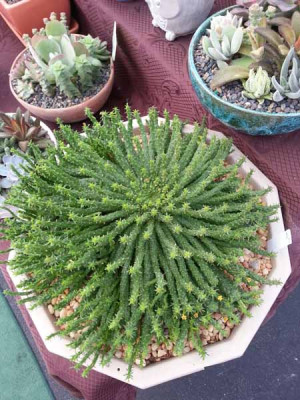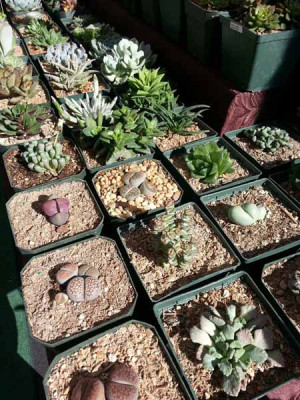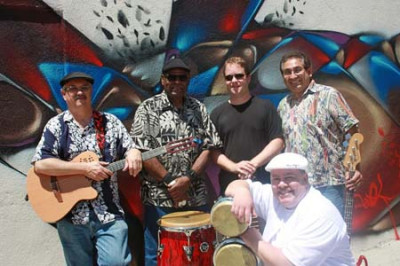 Zinchiladas Performs LIVE at the Market!

Sit under a Market umbrella and enjoy a fresh Market meal while you listen to the musical talents of Zinchiladas this Sunday at the Rancho Santa Fe Farmers Market.
Shop Local, Support Local at the Rancho Santa Fe Farmers Market
______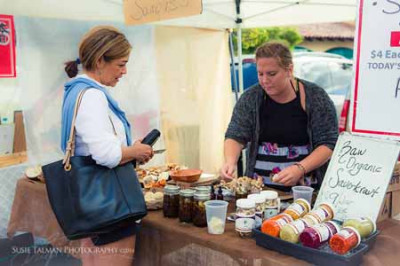 _____________________________________
The RSF Fresh Market Recipe of the Week is…a drink!

Quick and Easy Cold and & Flu Season Immunity Detox Tea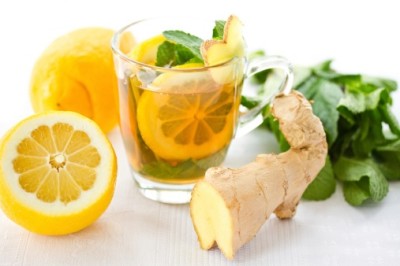 With the change in season often comes added stress on the immune system as the body first adjusts to the changes in temperatures, pollens and exposure to different viruses. This is a really simple "tea" you can have on the go to help keep boost your immunity, detox and cleanse your body and reduce inflammation!
Easy Lemon, Honey, Ginger Detox Tea

1 cup of warm water
1 teaspoon of Lemon Ginger Honey (SD Honey Company)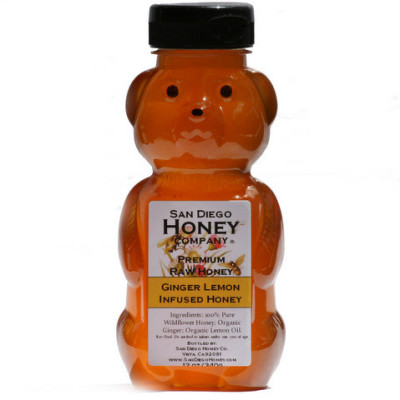 Simply add the honey which is infused with lemon and ginger to a glass of hot water for an anti-inflammatory cleansing tea! Ginger will stimulate circulation. You can have this as a warm drink, or once the honey has melted you can add a little ice and mint for a refreshing iced drink. If you have fresh ginger and lemon you can add a slice of each to this recipe, however for the times you are in a hurry, this is a quick and simple solution!
Lemon juice is a great source of vitamin C, an antioxidant that is vital for a strong immune system. When added to tea, lemon juice can provide your immune system with a much-needed boost. The vitamin C in lemon juice can also help neutralize the activity of waste products called free radicals in the body, reducing inflammation and swelling caused by free radicals in the body. By stemming damage due to inflammation in your body, vitamin C may decrease the risk of heart disease, stroke and cancer.
Traditionally, ginger has been used for the relief of nausea, upset stomach and digestive distress. However, this root plant also has other therapeutic properties as an antioxidant and an anti-inflammatory. Ginger can promote a healthy sweating that aids in the detoxification of the body, which is often helpful when suffering from a cold or flu. Ginger is also helpful for settling upset stomachs as well as dizziness, nausea, vomiting and cold sweating, which can accompany digestive problems.
Honey has a soothing effect on sore throats, making it an effective and natural cough suppressant. It may also boost the body's immune system by aiding in the production of white blood cells. This improves your ability to fight infection and helps reduce fevers. The natural sweetness of honey also balances the tartness of the lemon and the ginger's spice, giving honey, lemon and ginger tea its soothing flavor.
Buon Appetito!

_____________________________________
"Like Us" ON FACEBOOK AND ENTER TO WIN A FREE CSA PRODUCE BOX OR $20 IN MARKET BUCKS!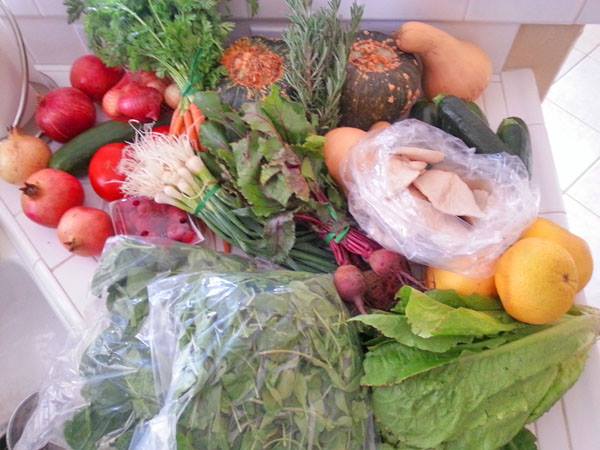 You could win a free Sage Mountain Produce Box by simply clicking the links below and "Liking Us"! Each "Like" goes into a pool, so by liking ANY of our Facebook posts or joining our email list, you are getting another chance to win! The more posts you "Like" the more entries you will have in the drawing. A new winner will be chosen each month!
CLICK ON THE LINKS BELOW

#1 Join our email list by clicking here, or from one of our special signs at the Market. If you have already joined our list you will be automatically entered each and every week.

#2 Enter as many time as you want by clicking LIKE on our Facebook Page, LIKE on our Facebook Photos and LIKE on our Facebook Comments, every Facebook LIKE is a another entry!
_____________________________________
Happy, Hopeful "Henry" Waddles Into Your Heart!
Helen Woodward Animal Center introduces Henry looking for a forever home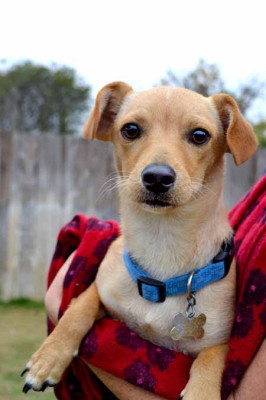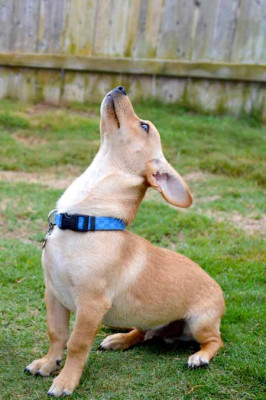 Meet Henry, Pet-of-the-Week at Helen Woodward Animal Center! This 5-month old, 11lb male Dachshund blend is looking for a loving home with a family who will gently introduce him to the world. He has lived all of his life with his two siblings and is a little nervous to set out on his own, but with some love and care, he'll be the bounciest member of your pack in no time! Come meet this low-riding little buddy today!
Henry is waiting to meet you at Helen Woodward Animal Center. He has been altered and is up-to-date on all of his vaccinations. His adoption fee is $399, and, as with all pets adopted from Helen Woodward Animal Center, he is micro chipped for identification. As an added bonus, he also comes with two free passes to Sea World!
Helen Woodward Animal Center is located at 6461 El Apajo Road in Rancho Santa Fe. Kennels are open daily Monday through Thursday from 12pm to 6pm; Fridays from noon to 7pm; Saturdays 10am to 6pm; and Sunday 11am to 6pm (last application accepted 15 minutes before closing)."
For more information call 858-756-4117, (option 1) or visit www.animalcenter.org.
RANCHO SANTA FE FARMERS MARKET … MAKE IT A WEEKLY HABIT!