Fill Your Thanksgiving With Fresh Rancho Santa Fe Farmers Market Flavors!
Thanksgiving is right around the corner and the Rancho Santa Fe Farmers Market has all of the fresh ingredients you need to create a dinner your guests will love!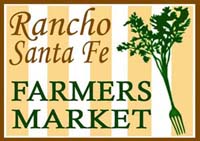 Dear Friends,
Our Farmers, Hand Crafters and Unique Artisans are bringing their holiday best to the Rancho Santa Fe Farmers Market this weekend! Pick up all of your favorite Fall ingredients at the Market to complete your Thanksgiving meal along with fresh flowers, tablecloths and more to bring the beauty of the Rancho Santa Fe Farmers Market to your table.

DON'T FORGET, our weekly Rancho Santa Fe Certified Farmers Market is open from 9:00 AM to 1:30 PM in the Del Rayo Village Shopping Center. Look for your favorites and new vendors each week and check out the new tenants in the center while you are there.
Rancho Santa Fe Farmers Market is the perfect place for shopping local to fill your fridge with fresh produce and flowers, delicious treats, prepared meals to go and more!
Remember, to bring an ice chest in your car or on wheels so you can relax and enjoy a nice lunch made fresh for you right at the market. Take a few minutes to slow down and enjoy our live entertainment with your family and friends in the comfort of new Market umbrellas, bistro tables and cafe chairs!
Rancho Santa Fe Farmers Market … Make it a weekly habit. Let's go Shopping!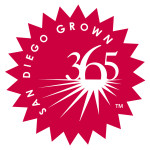 See you on Sunday,
Diane & Michael
619.743-4263
Diane@RanchoSantaFeFarmersMarket.com
www.RanchoSantaFeFarmersMarket.com
Located in the Del Rayo Village Shopping Center at 16079 San

Dieguito

Rd. Rancho Santa Fe, CA 92091

_____________________________________
Please Welcome Ruffled Apron

Just in Time for Thanksgiving!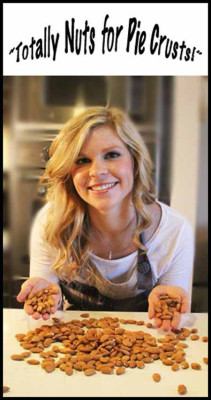 A Message From The Owner: "Hi! This is Locke, founder of Ruffled Apron Foods. People sometimes describe me as "a nut" and I must admit, that describes my personality and business pretty darn well! I love making people laugh and I love seeing people smile.
Love = Baking! The seed was planted when my brother requested a chocolate pie for his birthday. I love chocolate and I love pie, but the thought of using another, boring, graham cracker crust was discouraging me from making this pie. I thought, there has to be an alternative! After many test recipes with many types of nuts, an Almond Nut Crust was prepared and it was a huge success. The chocolate pie went from good to great with the help of my nutty crust. Over the last 5 years, this almond nut crust was a staple pie crust in my freezer. I would use it for any occasion and any type of pie. My friends and family gave many "oohh's and ahhh's", and started requesting almond pie crusts to bake with their own filling. There are very few options of pre-made pie crusts at the store, so the idea to make them available to buy was a no-brainer!"

Ruffled Apron Foods Almond Nut Crust offers an all natural, ready to use, pie crust to use for your favorite pie recipe.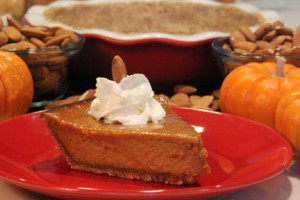 No artificial colors
No artificial flavors
No Preservatives
Dairy FREE
Naturally Sweetened
No Sodium
Made with no Gluten-Containing Ingredients
Made from whole, raw, ground almonds
Acceptable for Vegans
Ruffled Apron Foods and our variety of pre-made pie crusts will add flavor, dimension and something a little "nutty" to your already delicious pie filling. Ruffled Apron Foods is not limited to only Almond Pie Crusts, they are actively working on additional "Nutty" pie crusts and products to offer your more options. Each are uniquely delicious and will compliment different pie fillings perfectly. Think Key Lime pie in an Almond Pie Crust, Peanut Butter pie in a Peanut Pie Crust….or how about a Pumpkin Cheesecake in a Pecan Crust? CLICK HERE for a 10 Minute Prep Pumpkin Pie Recipe brought to you by Ruffled Apron.
Pick up your fresh pie crust just in time for Thanksgiving this Sunday at the Rancho Santa Fe Farmers Market!
Bring the Beauty of the Rancho Santa Fe Farmers Market to Your Thanksgiving Table!

Terroir by the Sea – Stop by and see the new tablecloth designs just in time for Thanksgiving and be sure to check out the New Pillows at Terroir by the Sea this week!
These one of a kind handmade ceramic works of art make great gifts for the holidays and as a hostess gift for Thanksgiving!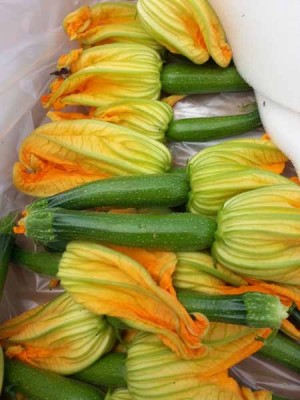 Valdivia Farms
Beautiful Squash Blossoms just in time for Thanksgiving. Use them to add a little color to your Thanksgiving platters or to create a delicate side dish that your guests will love!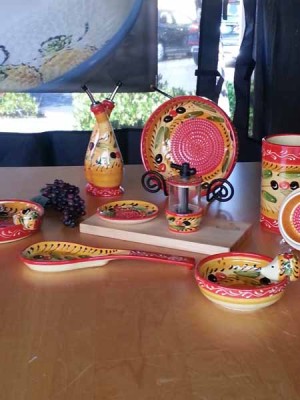 Garlic Grater
More great gift ideas for the holidays, or maybe to complete your set … the new shipment is here from Spain!
Lisa Campbell Performs LIVE This Sunday!

Grab a seat under a Market umbrella and listen to the talented Lisa Campbell perform live this Sunday.
From Flowers to Desserts, the Rancho Santa Fe Farmers Market Brings the Fresh Colors of Fall to Your Holiday Table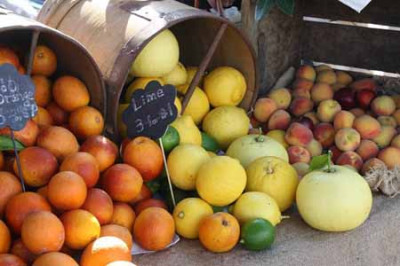 _____________________________________
The RSF Fresh Market Recipe of the Week is…
Raw Almond and Pistachio Apple Pie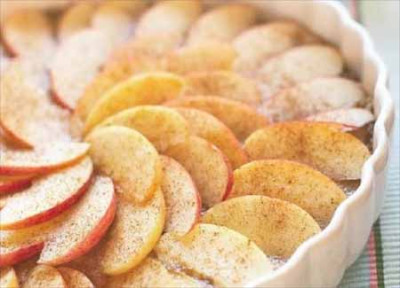 This Thanksgiving let's try a healthy take on an old favorite … by making a "raw" apple pie, you are not only bringing out the amazing flavors of the fresh from the orchard apples, but you are maintaining the nutritional integrity of the whole foods by preserving the vital living enzymes! Try something simple and different for a healthy twist on an American Staple!
For the Crust:
1 Ruffled Apron Almond Nut Pie Crust (Ruffled Apron Foods)
Lemon Cinnamon Syrup:
1 1/2 cups raw agave (Thyme of Essence)
2 tablespoons lemon juice (Atkins Farms)
2 teaspoons cinnamon
For the Filling:
4 apples, thinly sliced (Smit Farms)
2 cups soaked pistachios, minced (Hopkins)
1 cup raisins (or similar dried sweet fruit for variety (Smit Farms)

To Prepare:
Whisk together agave, lemon juice and cinnamon in a bowl to create the syrup. Evenly place one quarter of the apples on the pie crust and gently press down. Brush one quarter of the syrup over the first layer of apples and sprinkle a third of the minced pistachios and one third of the raisins. Repeat for the next three layers until all of the ingredients have been utilized and press the final layer down, then cover with a final thin glaze of the cinnamon syrup. Refrigerate for at least two hours prior to serving … Happy Holidays!
_____________________________________
"Aria's" Love a Timeless Melody
Helen Woodward Animal Center introduces Aria looking for a forever home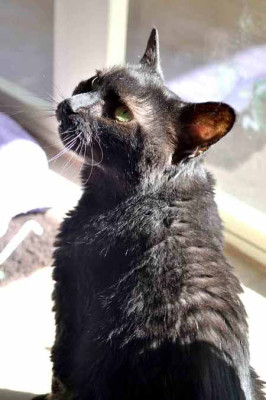 Meet Helen Woodward Animal Center's 7-year old, 7lb Pet-of-the-Week, Aria! Like the music she is named for, Aria finds as much beauty in "solo" naps in the sun as in a quiet afternoon spent "accompanied" by a friend. She's one of those rare creatures whose love is truly boundless, and has purred her way into the heart every staff member and volunteer she's nuzzled. Whether she was born with the gift or it came with the wisdom of age, Aria doesn't greet a visitor without making a friend.
Aria is waiting to meet you at Helen Woodward Animal Center. She has been altered and is up-to-date on all of her vaccinations. Her adoption fee is $96, and, as with all pets adopted from Helen Woodward Animal Center, she is micro chipped for identification. As an added bonus, she also comes with two free passes to Sea World!
Helen Woodward Animal Center is located at 6461 El Apajo Road in Rancho Santa Fe. Kennels are open daily Monday through Thursday from 12pm to 6pm; Fridays from noon to 7pm; Saturdays 10am to 6pm; and Sunday 11am to 6pm (last application accepted 15 minutes before closing)."
For more information call 858-756-4117, (option 1) or visit www.animalcenter.org.
RANCHO SANTA FE FARMERS MARKET … MAKE IT A WEEKLY HABIT!
_____________________________________
"Like Us" ON FACEBOOK AND ENTER TO WIN A FREE CSA PRODUCE BOX OR $20 IN MARKET BUCKS!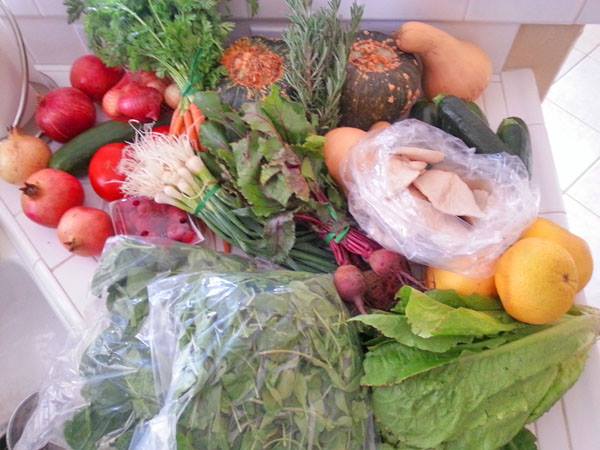 You could win a free Sage Mountain Produce Box by simply clicking the links below and "Liking Us"! Each "Like" goes into a pool, so by liking ANY of our Facebook posts or joining our email list, you are getting another chance to win! The more posts you "Like" the more entries you will have in the drawing. A new winner will be chosen each month!
CLICK ON THE LINKS BELOW

#1 Join our email list by clicking here, or from one of our special signs at the Market. If you have already joined our list you will be automatically entered each and every week.

#2 Enter as many time as you want by clicking LIKE on our Facebook Page, LIKE on our Facebook Photos and LIKE on our Facebook Comments, every Facebook LIKE is a another entry!