'Tis the Season at The Rancho Santa Fe Farmers Market!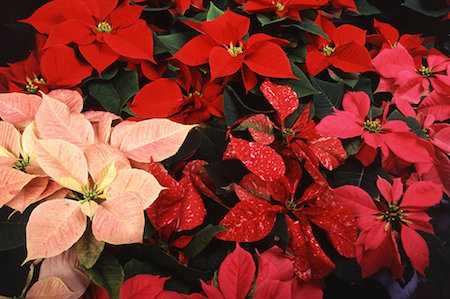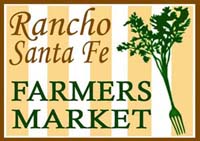 Dear Friends,
The Rancho Santa Fe Farmers Market is bursting with Holiday joy and fun! This Sunday, as you browse tons of fresh produce and endless, unique gift ideas from our vendors, we will be giving out free Cravory Cookies to kids at the Market. Be sure to also stop by BeRuna for a delicious sample of seed salt crafted from superfoods, seeds, mineral salts, and spices! Come join the fun with us before the Holidays come – We will be closing on December 24th and January 31st, and re-opening on January 7th to kick off 2018 with all our wonderful Market-goers!
Remember, to bring an ice chest in your car or on wheels so you can relax and enjoy a nice lunch made fresh for you right at the market. Take a few minutes to slow down and enjoy our live entertainment with your family and friends in the comfort of new Market umbrellas, bistro tables and cafe chairs!
Rancho Santa Fe Farmers Market…Make It A Weekly Habit!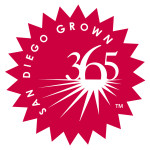 See you on Sunday,
Diane & Michael
619.743-4263
Diane@RanchoSantaFeFarmersMarket.com
www.RanchoSantaFeFarmersMarket.com
Located in the Del Rayo Village Shopping Center at 16079 San Dieguito Rd. Rancho Santa Fe, CA 92091
_____________________________________
Vendor Spotlight
BeRUNA Seed Salt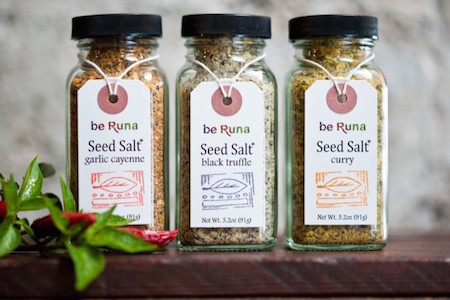 BeRUNA is founded on the vision of all humans living their fullest expression and we believe that vibrant health is the foundation.  RUNA is defined as 'gently flowing, mighty strength,  love, affection, and human fully alive'.  More than a word, in RUNA, we found a name, a brand, a mission, guiding principles and an imperative big enough to build our big ideas! We are a tribe of super committed folks making super delicious Superfoods!  Our mission is to offer products mindfully created and lovingly crafted, that support people and the planet to BeRUNA.
In 2013, our crafted collective of SEED SALT and SEED SWEET were born. Edible SEEDS as tiny treasure troves of flavor and plant-based nutrition, combined with superfoods, mineral salts, and healing spices, they are truly a revolutionary upgrade to the experience of ordinary table salt and seasoning.  With three savory flavors and three sweet…what a way to experience foods that make you feel fully alive.
Seed Salt is a delicious seed seasoning blend, made of a combination of 9 nutrient dense organic seeds, superfoods, mineral salts and healing spices. Use daily as your 'over-the-top', upgraded table salt and seasoning' to add increased nutrition, flavor and delight to all things savory.  Experience all 3 flavors: Black Truffle, Garlic Cayenne, or Turmeric on all your favorite foods.
Seed Sweet is a delectable seed spice blend, made of combination of 9 nutrient dense organic seeds, superfoods, superfruits, spices and coconut palm sugar. Super delicious, and  super nutritious. Experience all 3 flavors: Cinnamon Spice, Berry Vanilla, and Coconut Cacao on everything you want to increase nutrition, flavor and a touch of sweet.
All of our products are Organic, Non GMO, Gluten Free, Vegan, Paleo and mostly Raw 'over-the-top' sprouted goodness. Your taste buds will love them, your body will thank you…and so do we!

Stop by this Sunday and try a delicious sample!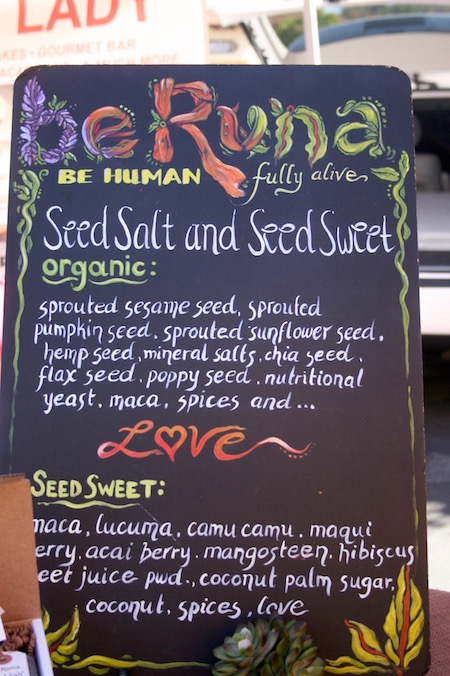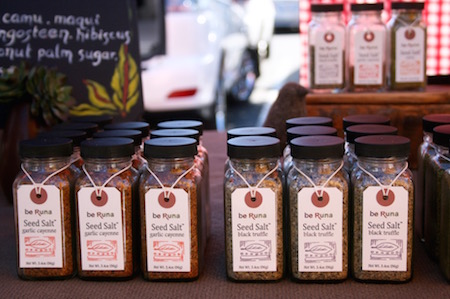 ____________________________________
Free Cravory Cookies for Kids This Sunday at the Market!
To celebrate the Holidays and all the wonderful bundles of joy that visit our Market, we will be giving away delicious cookies from Cravory Cookies to all kids at the Market this Sunday. Stop by the Market Information Booth to pick up a mouthwatering cookie for your kiddo as you shop – We guarantee they'll be jumping with excitement and it'll be gobbled down in seconds!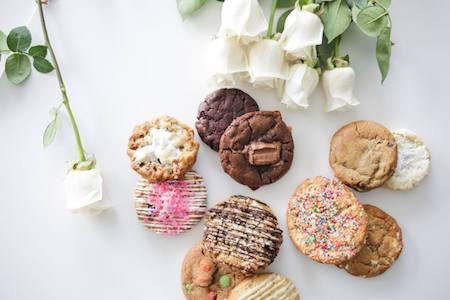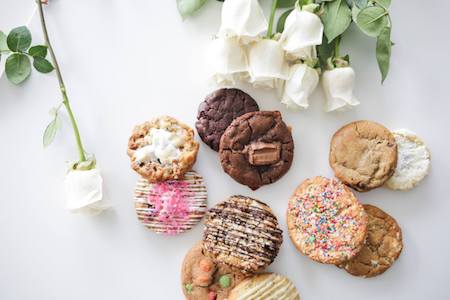 Congratulations to Our $25 "Like Us On Facebook" Winner!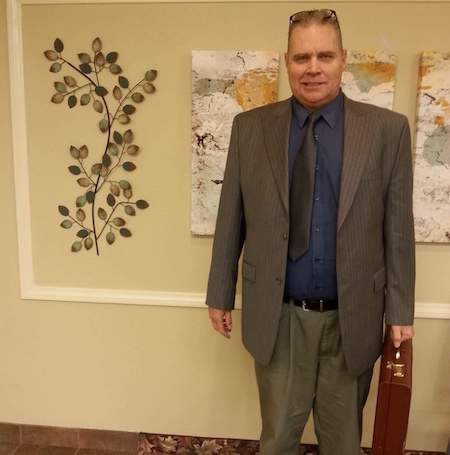 A big congratulations to Brian Hansen, our "Like Us on Facebook" winner this week. Please stop by the Manager's booth this Sunday and pick up your $25 in Market Bucks!
_____________________________________
We're Closed for Christmas & New Year's Eve!
The Holidays are all about taking a moment to relax and spend quality time with your loved ones. The Market will be closed on Sunday, December 24th and Sunday, December 31st. We will re-open on Sunday, January 7th, 2018!
We hope everyone has an amazing time celebrating the Holidays and we hope 2018 brings you many smiles, wonderful memories, and accomplishments. We can't wait to see you on January 7th to kick off the new year!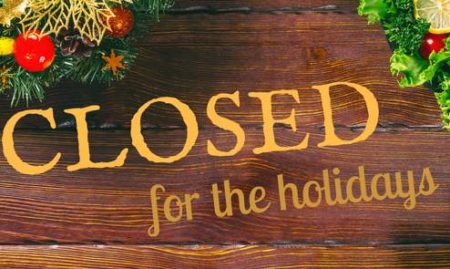 Here's How You Can Help Horses and Their Handlers Who Were Devastated by the Lilac Fire
A note from our neighbors, Studio Savvy Salon:
This past weekend we went to the Del Mar Race track evacuation center to help out and donate goods to the horses and the handlers that were all displaced by last week's Lilac Fire. It was a touching experience to see so many people willing to chip in, but there are still concerns about helping lost horses find their owners that were evacuated so quickly in the melee.
Another major concern is replacing all the damaged and destroyed possessions and gear that was lost in the fire. Even medical bills and vet bills of people and animals that were burned fleeing the fires need your help.
Would you like to make a donation or volunteer?
The Del Mar Race Track has setup a page with information, as well as a way to Donate through the Del Mar Race Track web site that connects to the owners of the San Luis Rey Downs training facility that was so badly damaged. If you saw any of this on the news you know how devastating this event was and how many people and horses need our support.
Click here for more information: https://www.dmtc.com/fire-evacuation
Donate here: https://www.gofundme.com/thoroughbredcare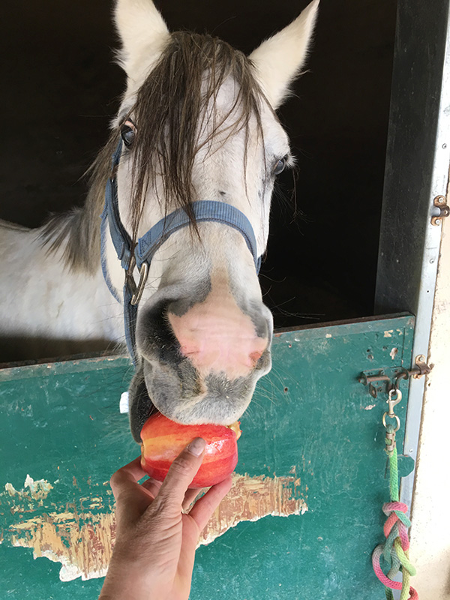 Join DCollins for Some Holiday Pottery Fun!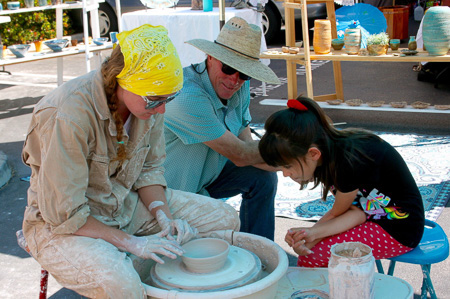 Come learn the art of pottery and work on your own masterpiece with DCollins Pottery at the Market each Sunday! In honor of the Holidays, DCollins Pottery is offering a free workshop during the Market, in which participants will learn about pottery and paint a ceramic ornament for a charming gift or tag. Stop by this Sunday!
Rancho Santa Fe Farmers Market Gift Cards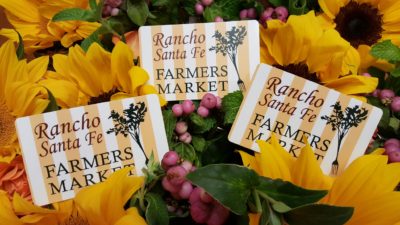 Don't forget to pick up a Rancho Santa Fe Farmers Market Gift Card while you're shopping! These gift cards make great Hostess Gifts, Holiday Gifts, and Thank You gifts for any time of the year and are especially perfect for the upcoming holidays. Gift cards can be purchased in any denomination and are available at the Market Information Booth.
Gorgeous Colors and Flavors at the Rancho Santa Fe Farmers Market!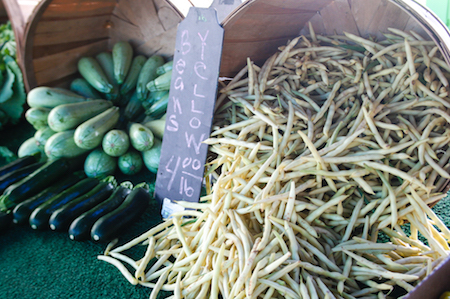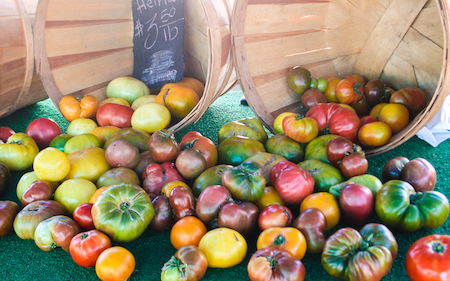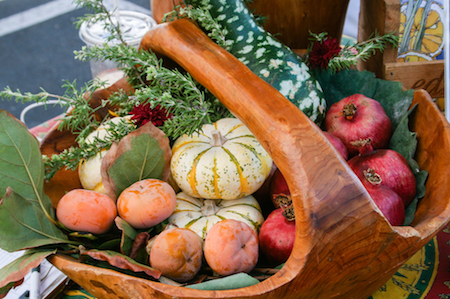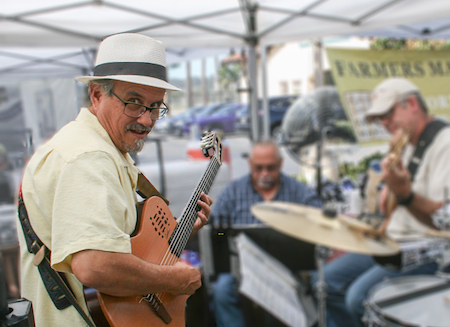 Live Original Music by Son Pa Ti


The wonderfully talented group, Son Pa Ti, is joining us this week! Pick up a fresh Market meal and relax under an umbrella as you listen to them perform.
_____________________________________
Helen Woodward Animal Center Pet Of The Week
Rey of Sunshine Lights Up Your Life!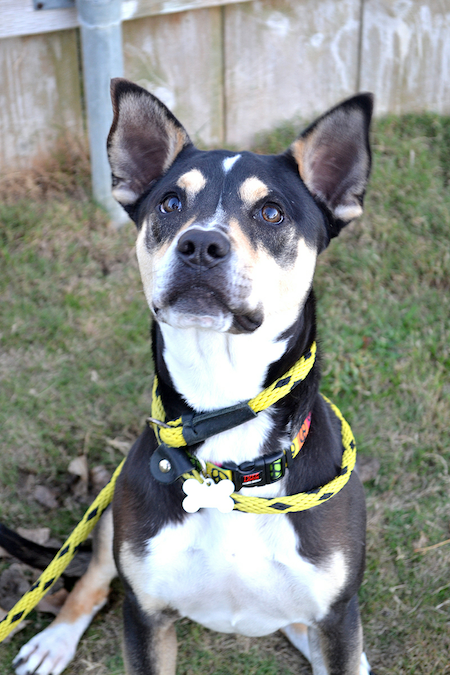 This little Rey of sunshine is ready for adventure as soon as she finds the perfect crew! Rey is a bit unsure of herself, and hopes to find someone to be her cheerleader, coach, and best friend. She's just one-year old and at about 38lbs, she still has some growing to do. Being a hound blend, she'll be an active girl, and be very devoted to her forever family. It's not a Jedi mind-trick, you are falling in love. Come meet her today!
Rey is waiting to meet you at Helen Woodward Animal Center. Her adoption fee is $112. She has been altered and is up-to-date on all of her vaccinations.  As with all pets adopted from Helen Woodward Animal Center, she is micro-chipped for identification.
Helen Woodward Animal Center is located at 6461 El Apajo Road in Rancho Santa Fe. Kennels are open daily Monday through Thursday from 12pm to 6pm; Fridays from noon to 7pm; Saturdays 10am to 6pm; and Sunday 11am to 6pm (last application accepted 15 minutes before closing). For more information call 858-756-4117, option #1 or visitwww.animalcenter.org.
"Share Us" ON FACEBOOK AND ENTER TO WIN $25 IN MARKET BUCKS!
You could win $25 in RSF Market Bucks by simply clicking the links below and "Share Us"! Each time you "share" one of our posts it goes into a pool, so by liking ANY of our Facebook posts or joining our email list, you are getting another chance to win! The more posts you "Like" the more entries you will have in the drawing. A new winner will be chosen each month!
CLICK ON THE LINKS BELOW


#1 Join our email list by clicking here, or from one of our special signs at the Market. If you have already joined our list you will be automatically entered each and every week.


#2 Enter as many time as you want by clicking LIKE on our Facebook Page, LIKE on our Facebook Photos and LIKE on our Facebook Comments, every Facebook LIKE is a another entry!
Do you read online reviews? We do, and so do other customers. That's why we'd love it if you would take just a quick moment to review your experience at our Farmers Market.
Here are links for two great review sites:
THANK YOU, WE REALLY APPRECIATE IT!
Save
Save
Save
Save
Save
Save
Save
Save
Save
Save
Save
Save
Save
Save
Save
Save
Save
Save
Save
Save
Save
Save
Save
Save
Save
Save
Save
Save
Save
Save
Save
Save
Save
Save
Save
Save
Save
Save
Save
Save
Save
Save
Save
Save
Save
Save
Save
Save
Save
Save
Save
Save
Save
Save
Save
Save
Save
Save
Save
Save
Save
Save
Save
Save
Save
Save
Save
Save
Save
Save
Save
Save
Save
Save
Save
Save
Save
Save
Save
Save
Save
Save
Save
Save
Save
Save
Save
Save
Save
Save
Save
Save
Save
Save
Save
Save
Save
Save
Save
Save
Save
Save
Save
Save
Save
Save
Save
Save
Save
Save
Save
Save
Save
Save
Save
Save
Save
Save
Save
Save
Save
Save
Save
Save
Save
Save
Save
Save
Save
Save
Save
Save
Save
Save
Save
Save
Save
Save
Save
Save
Save
Save
Save
Save
Save
Save
Save
Save
Save
Save
Save
Save
Save
Save
Save
Save
Save
Save
Save
Save
Save
Save
Save
Save
Save
Save
Save
Save
Save
Save
Save
Save
Save
Save
Save
Save
Save
Save
Save
Save
Save
Save
Save
Save