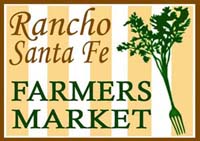 Dear Friends,
The Market would like to welcome our newest vendors this week including Basil Tops and Floral Palette!  While you are shopping, don't forget to stop by their booths and pick up the ingredients for the Fresh Market Recipe along with a beautiful floral arrangement for your center piece!
DON'T FORGET, our weekly Rancho Santa Fe Certified Farmers Market is open from 9:00 AM to 1:30 PM.  Look for your favorites and new vendors each week.  It is the perfect place for local shopping to fill your fridge with fresh produce and more!
Remember, to bring an ice chest in your car or on wheels so you can enjoy a nice lunch made fresh for you right at the market.  Also come to enjoy our live entertainment in the comfort of new canopies, tables and chairs.
Rancho Santa Fe Farmers Market … Make it a weekly habit.  Let's go Shopping!
See You Tomorrow,
Diane Haworth
619.743-4263
Diane@RanchoSantaFeFarmersMarket.com
www.RanchoSantaFeFarmersMarket.com
16079 San

Dieguito

Rd. Rancho Santa Fe, CA 92067

_____________________________________
Make Sure to See Our Vendor of the Week, Basil Tops
Pick up your ready to serve pesto sauces for quick and easy gourmet meals made in just minutes!

"Our All-Natural, Artisan Basil Sauces & Pestos are made from organic sweet basil that we grow in Cardiff By The Sea, California. From there, our Basil is taken to our Operations Factory in Carlsbad, California where we make our full line of sauces. . .Our sauces are free of chemicals or preservatives.There is nothing we use that you cannot pronounce." – Basil Tops
Available sauces include everything Pesto Perfectto, Sun-Dried Tomatoes Basil, Lemon/Lime Pesto, and a variety of Spicy Basil Sauces.   Basil Tops also sells dairy-free Vegan pesto sauces.  Stop by their booth on Sunday and test some of the sauce to take home! See a full list of available products at www.BasilTops.com
Keep reading to see this weeks Fresh Market Recipe using Basil Tops Sauces!
_____________________________________
Please Also Welcome Floral Palette to the Market this Week!
Floral Palette is one of our newest vendors and offers beautiful floral arrangements 

"Floral Palette uses the finest and most unique flowers combined in innovative and classically beautiful designs, they truly offer an exceptional blend of traditional elegance and modern chic that earned the title of best florist by Ranch and Coast magazine." – Floral Palette
Founded by owner Natalie Maxwell in 2002, Floral Palette offers full floral services including local and worldwide delivery, custom wedding and event decor, private residence holiday decorating, as well as plant installation and maintenance for the home or office. – Floral Palette
Visit their website www.FloralPalette.com for more information and stop by their booth at the Market!
RANCHO SANTA FE FARMERS MARKET … MAKE IT A WEEKLY HABIT!
_____________________________________
This Week's RSF Fresh Market Recipe is Organic and Delicious



Pesto

Perfectto

Spaghetti Squash & Toasted Garlic Rounds

served with

Arugala

Salad with Olive Oil and

Balsamico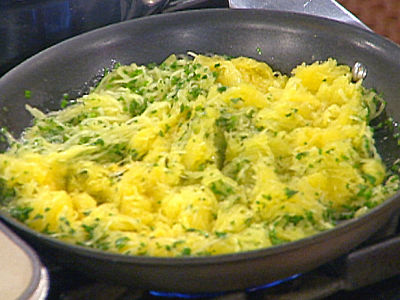 What you will need and where to find it:
1 Med Size Spaghetti Squash – Sage Mountain Farm
1 package Basil Tops Pesto

Perfectto

– Basil Tops
1 bunch fresh Arugula – Sage Mountain Farm
1 lemon – Atkins
1/2 cup grape tomatoes – Valdivia Farm
1/4 cup grated Romano Cheese (optional) – Franks Cheeses
1 baguette – Oh La

Vache

Extra Virgin Olive Oil to taste – Thyme of Essence
Aged Balsamic Vinegar to taste – Thyme of Essence
Rinse and pat dry the Arugula and tomatoes.  Slice the tomatoes in half length-wise.  Gently toss together and place in refrigerator.  Slice the baguette into 1/4″ rounds and place on a cookie sheet covered with foil.  Turn on the broiler.  Mix the grated garlic with 1/4 cup of olive oil and brush on the rounds.  Set aside until you are ready to serve, then place under broiler for 4 minutes until golden brown.
Slice the spaghetti squash in half length-wise and scrape out the seeds with a large spoon.  Compost seeds.  Place the squash center facing down in a large pot with a steamer basket, add 1 1/2 inches of water.  Bring to a boil and cook for 20 minutes, or until the back side of the squash skin can be pierced with a fork.
Remove from heat and place the squash on a cutting board.  While the squash is cooling slightly, turn on the broiler and place the sliced baguette rounds under the flame for approx 4 minutes until golden brown.
Use a pot holder to hold the squash with one hand while you scrape the inside with a fork to remove all of the "spaghetti."  If you plan to use it immediately, simply toss the spaghetti squash on a bowl with the
Pesto

Perfectto
Sauce.  Begin by squeezing a
two inch
strip of the sauce out and tossing.  If you want more flavor, gradually stir in more until desired flavoring is reached.
You can refrigerate the spaghetti squash at this point and warm it up later in a skillet, stirring the Pesto
Perfectto
in over low heat.  Squeeze fresh lemon juice over and toss with Romano Cheese (optional), season with fresh ground pepper to taste.
Dress the Arugula and tomatoes with olive oil and balsamic and plate with the Pesto
Perfectto
Spaghetti Squash.  Top with a sprig of fresh basil (optional)
Boun Appetito!

RANCHO SANTA FE FARMERS MARKET … MAKE IT A WEEKLY HABIT!
_____________________________________
So in Love with "Stocking"
Helen Woodward Animal Center introduces Stocking, looking for a forever home!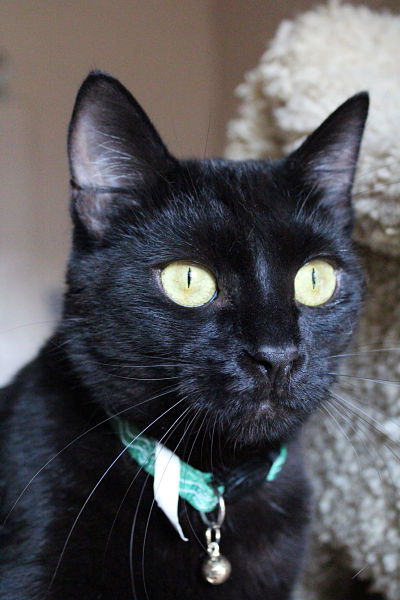 Meet Stocking, Pet-of-the-Week at Helen Woodward Animal Center! The 2.5-year old domestic short hair blend is a lot of love in a tiny 8lb package, and
is known around the Center for her warm, constant purr. She loves to show off with acrobatic stunts and playful antics for friends, but she can always be coaxed into a nap with a few loving pets to her soft fur. We're so in love with her that it's hard to believe that her family is sure to discover even more of what this amazing feline has to offer!
Stocking is waiting to meet you at Helen Woodward Animal Center. She has been spayed and is up-to-date on all of her vaccinations.  Her adoption fee is $119 each and, as with all pets adopted from Helen Woodward Animal Center, she is micro chipped for identification.  As an added bonus, Stocking also comes with two free passes to Sea World!
Helen Woodward Animal Center is located at 6461 El Apajo Road in Rancho Santa Fe. Kennels are open daily Monday through Thursday from 12pm to 6pm; Fridays from noon to 7pm; Saturdays 10am to 6pm; and Sunday 11am to 6pm (last application accepted 15 minutes before closing)."
For more information call 858-756-4117, (option 1) or visit www.animalcenter.org.
RANCHO SANTA FE FARMERS MARKET … MAKE IT A WEEKLY HABIT!