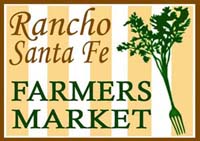 Dear Friends,
We have a refreshing, relaxing and exciting vendor line up this week!  Keys Creek Lavender is filling the Market with the fresh aroma of organic lavender.  Breathe in the lavender scent while you relax at Sarah's Massage booth and listen to the beautiful Live Music of our newest Market Musician.  Of course, all of this is accompanied by Fresh Produce and a fantastic day of shopping!
DON'T FORGET, our weekly Rancho Santa Fe Certified Farmers Market is open from 9:00 AM to 1:30 PM.  Look for your favorites and new vendors each week.  It is the perfect place for local shopping to fill your fridge with fresh produce and more!
Remember, to bring an ice chest in your car or on wheels so you can enjoy a nice lunch made fresh for you right at the market.  Also come to enjoy our live entertainment in the comfort of new canopies, tables and chairs.
Rancho Santa Fe Farmers Market … Make it a weekly habit.  Let's go Shopping!
See You Tomorrow,
Diane Haworth
619.743-4263
Diane@RanchoSantaFeFarmersMarket.com
www.RanchoSantaFeFarmersMarket.com
16079 San

Dieguito

Rd. Rancho Santa Fe, CA 92067

_____________________________________
Keys Creek Lavender Farm is the Vendor to See this Week
You will smell the amazing scent of Lavender as soon as you enter the Market this week, visit Keys Creek Lavender Farms booth and explore all of their organic products!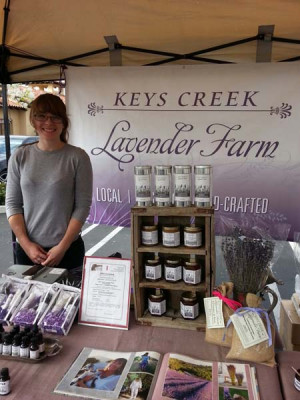 Keys Creek is an Organic Lavender Farm bringing fresh Lavender Oil, lotions, bath salts, shower gel, face masks, soaps, lip balm, toner, facial and eye creams, cut lavender and more to the Market!
Keys Creek does even more than just sell organic lavender products, they also host weddings, lavender tours and more.  Visit their website www.KCLFarm.com for more information.
Keep reading to see this weeks Fresh Market Recipe using Keys Creek Lavender!
Take a Minute to Relax at the Market with Sarah's Massage!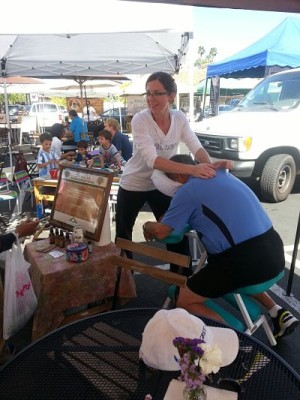 Stop by Sarah's Massage and relax while listening to the Market's live music.  This is the perfect way to center yourself in a matter of minutes while your kids are busy at the craft booth next door!  Massage is $1 per minute and even 10 quick minutes can refresh you on the go!
**Reminder From the SD Farm Bureau**
"Local Agriculture Scholarships … Get those applications in on time!
Students applying for San Diego County Farm Bureau college scholarships have until April 4 to submit their applications to the Farm Bureau office. Don't miss this deadline! Farm Bureau has awarded over $220,000 to ag students since 1999. Call the Farm Bureau office with any questions; 760-745-3023."
RANCHO SANTA FE FARMERS MARKET … MAKE IT A WEEKLY HABIT!
_____________________________________
This Week's RSF Fresh Market Recipe Combines Beautiful Aromas with Fantastic Flavor



Grilled Salmon with Lavender and Basil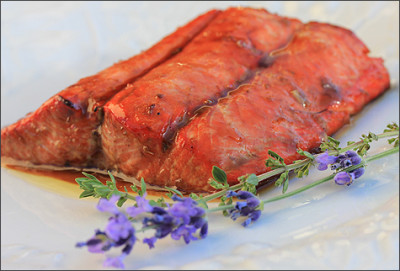 What you will need and where to find it:
4 fresh salmon steaks or filets (

Robbies

Fish)
1 teaspoon dried lavender (Keys Creek Lavender)
4 sprigs fresh lavender (Keys Creek, Sage Mountain or B Street Growers)
5 large basil leaves (Sage Mountain Farms)
1/2 cup olive oil (Smit Orchards)
2 Tablespoons fresh lemon juice (Atkins Farms)
4 slices fresh lemon (Atkins Farms)
2 Tablespoons

tamari

(wheat free soy sauce)
1 bag fresh spring greens (Sage Mountain Farms)

Preparation is quick and easy:
Combine lavender, basil, olive oil,
tamari
, and lemon juice to make a marinade.  Coat the salmon the night before grilling.  Place salmon on a hot, lightly oiled grill and baste frequently.  When salmon is done, baste with remaining marinade.  Serve over a bed of spring greens and garnish with lemon slice and a fresh lavender sprig.
Enjoy!

RANCHO SANTA FE FARMERS MARKET … MAKE IT A WEEKLY HABIT!
_____________________________________
You'll Be Flying High with "Tinkerbelle"
Helen Woodward Animal Center introduces Tinkerbelle, looking for a forever home!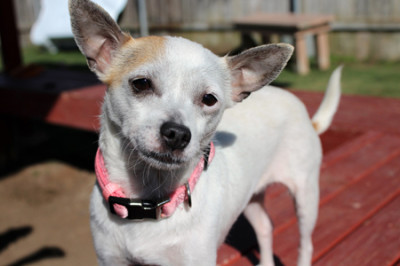 Meet Tinkerbelle, Pet-of-the-Week at Helen Woodward Animal Center! Looking for a little friend to accompany you in life's big adventures? Look no further than Tinkerbelle! She's a cuddly 3-year old, 7.5lb Chihuahua blend whose loving companionship knows no bounds. Whether exploring Neverland or cuddling up for the movie version, she's happy as long as she's by your side. You won't need any pixie dust to fall for this girl, just come meet her today!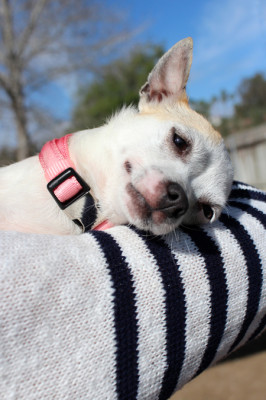 Tinkerbelle is waiting to meet you at Helen Woodward Animal Center. She has been spayed and is up-to-date on all of her vaccinations. Her adoption fee is $299 and, as with all pets adopted from Helen Woodward Animal Center, she is micro chipped for identification.  As an added bonus, Tinkerbelle also comes with two free passes to Sea World!
Helen Woodward Animal Center is located at 6461 El Apajo Road in Rancho Santa Fe. Kennels are open daily Monday through Thursday from 12pm to 6pm; Fridays from noon to 7pm; Saturdays 10am to 6pm; and Sunday 11am to 6pm (last application accepted 15 minutes before closing)."
For more information call 858-756-4117, (option 1) or visit www.animalcenter.org.
RANCHO SANTA FE FARMERS MARKET … MAKE IT A WEEKLY HABIT!