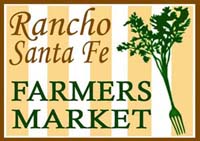 Dear Friends,
The Market has new vendors this week, so don't miss it!  As always, bring your grocery bags for your Sunday shopping and be prepared to fill them with delicious, fresh produce and other unique goods.

Two of the new vendors joining us this week are Floral Pallete and Basil Tops.  Make sure to stop by their booths and explore all they have to offer!

DON'T FORGET, our weekly Rancho Santa Fe Certified Farmers Market is open from 9:00 AM to 1:30 PM.  Look for your favorites and new vendors each week.  It is the perfect place for local shopping to fill your fridge with fresh produce and more!
Remember, to bring an ice chest in your car or on wheels so you can enjoy a nice lunch made fresh for you right at the market.  Also come to enjoy our live entertainment in the comfort of new canopies, tables and chairs.
Rancho Santa Fe Farmers Market … Make it a weekly habit.  Let's go Shopping!
See You Tomorrow,
Diane
Haworth
619.743-4263
Diane@RanchoSantaFeFarmersMarket.com
www.RanchoSantaFeFarmersMarket.com
16079 San Dieguito Rd. Rancho Santa Fe, CA 92067

_____________________________________________________________
The Market Has a Variety of New Fresh Produce and New Vendors Every Week!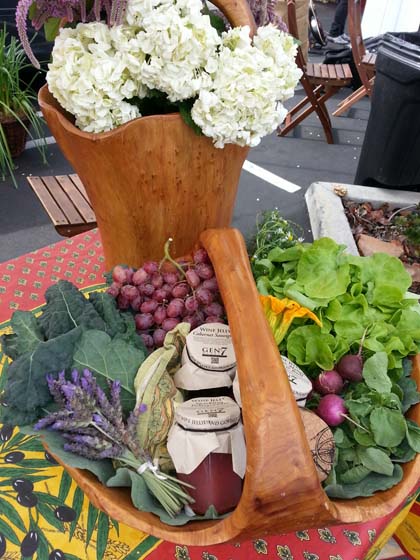 Join us at the Rancho Santa Fe Farmers Market Every Sunday to see what's new and fill your fridge with unique produce
______________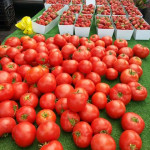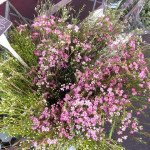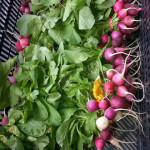 _____________________________________________________________
Don't Miss Gourmet Tamales Booth this Week!
If you have not stopped by Gourmet Tamales yet, you are in for a real treat.  

Gourmet Tamales offers a huge variety of delicious, fresh, gluten free tamales including: Beef tamale, Corn with Poblano strips, Green bean red mole,  Chile relleno,  Spicy black bean, Spicy mushroom garlic, Tinga tamale, Chicken with green sauce, Feta & jalapeno, Green mole and vegetable, Potato cilantro, Spinach zucchini, Spinash feta tomatillo,  and White corn & Scallion!  (Click on any of the Tamales that sound appetizing to see the nutrition facts.)

But that's not all you will find at the Gourmet Tamales booth!  They have 5 varieties of fresh salsas, guacamole and more.  
___________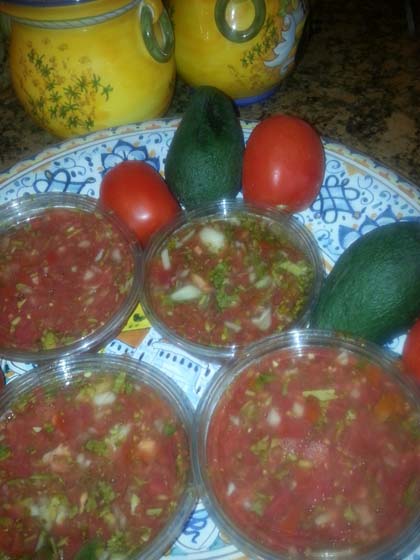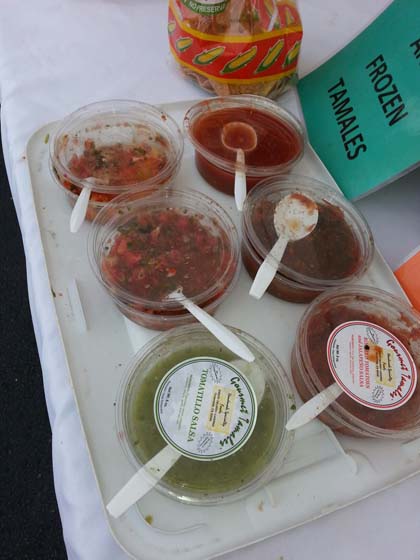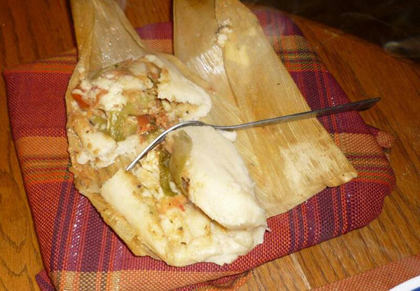 Tamales are great for breakfast served with fresh eggs, and topped with Green Tomatillo Salsa or with a  mole sauce for dinner.  

See our Recipe of the week for more ideas of how to serve these delicious tamales! 
RANCHO SANTA FE FARMERS MARKET … MAKE IT A WEEKLY HABIT!
_____________________________________________________________
Gourmet White Corn & Scallion Tamales with Mole Sauce

This Week's RSF Fresh Market Recipe is Unique and Delicious!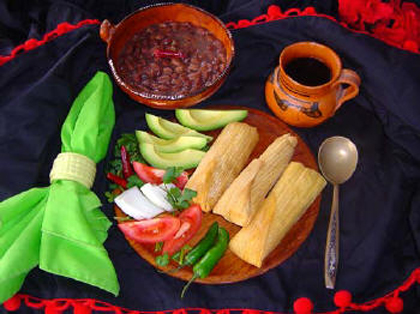 What you will need and where to find it:
For Dinner –
1 bunch fresh cilantro (Kwano or Sage Mountain Farms)
2 Ripe Avocados (Atkins)
4 Heirloom Tomatoes (Valdivia Farms)
1 Package White Corn & Scallion Tamales (Gourmet Tamales)
For the Mole Sauce –
2 garlic cloves (Valdivia Farms)
2 tablespoons olive oil (Thyme of Essence)
1 teaspoon red-pepper flakes
2 plum tomatoes, cored and chopped (Valdivia Farms)
1 ounce semisweet chocolate, chopped
1/4 teaspoon ground cinnamon
1/4 cup raisins
2 corn tortillas (6 inches each), cut into 1/2-inch-wide strips (Gourmet Tamales)
1 small onion, halved and thinly sliced (Sage Mountain or Valdivia Farms)
1 dried ancho chile
Coarse salt and ground pepper
1/3 cup blanched almonds (Hopkins Almonds or Smit Orchards)
In a large heavy-bottom saucepan, heat oil over medium flame. Add ancho chile and cook until soft, for 30 to 45 seconds.  Remove with a spoon, leaving oil in the pan and di-stem. Set ancho chili aside.
Now, in the same saucepan, add garlic, blanched almonds and tortillas; cook, stirring, until lightly browned, 2 minutes;  then transfer to these items and the ancho chili to a high speed blender while leaving oil in the saucepan.
Add onion and tomatoes to pan; cook until tomatoes begin to blacken, 8 to 10 minutes (reduce heat if necessary). Add raisins and pepper flakes; transfer to the high speed blender.
Add the chocolate and cinnamon to high speed blender; puree until a paste begins to form, about 3 minutes. Add 1/4 cup water; puree until smooth, about 7 minutes more. Season with salt and pepper and pour over warm tamales.  Serve with Sliced Avocados and Tomatoes and top with fresh Cilantro
Buen Provecho!

RANCHO SANTA FE FARMERS MARKET … MAKE IT A WEEKLY HABIT!
_____________________________________________________________
Falling in "Amor" with "Chica"
Helen Woodward Animal Center introduces sweet Chica looking for a family to love!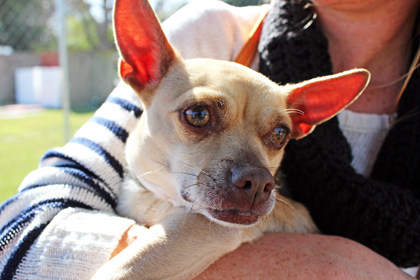 Meet Chica, Pet-of-the-Week at Helen Woodward Animal Center! Could your dream girl be a 2-year old, 11lb Chihuahua blend? If you have a cuddly companion in mind, look no further than Chica. Her friendly demeanor wins hearts as she crawls into just about any open lap and her tickling kisses give visitors giggles. She will settle right into her forever home when her family finally finds her!
Chica is waiting to meet you at Helen Woodward Animal Center. She has been spayed and is up-to-date on all of her vaccinations.  Her adoption fee is $299 each and, as with all pets adopted from Helen Woodward Animal Center, she is micro chipped for identification.  As an added bonus, Chica also comes with two free passes to Sea World!
Helen Woodward Animal Center is located at 6461 El Apajo Road in Rancho Santa Fe. Kennels are open daily Monday through Thursday from 12pm to 6pm; Fridays from noon to 7pm; Saturdays 10am to 6pm; and Sunday 11am to 6pm (last application accepted 15 minutes before closing)."
For more information call 858-756-4117, (option 1) or visit www.animalcenter.org.
RANCHO SANTA FE FARMERS MARKET … MAKE IT A WEEKLY HABIT!