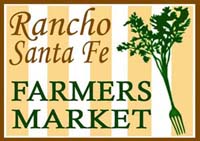 Dear Friends,
It is going to be a great Market full of fresh Spring goodies and enchanting music this week! We have a very special guest joining us, Helen Woodward Animal Center!  Also, make sure you check out our "Must See" vendor of the week, Emilio's Seafood Paella.
DON'T FORGET, our weekly Rancho Santa Fe Certified Farmers Market is open from 9:00 AM to 1:30 PM.  Look for your favorites and new vendors each week.  It is the perfect place for local shopping to fill your fridge with fresh produce and more!
Remember, to bring an ice chest in your car or on wheels so you can enjoy a nice lunch made fresh for you right at the market.  Also come to enjoy our live entertainment in the comfort of new canopies, tables and chairs.
Rancho Santa Fe Farmers Market … Make it a weekly habit.  Let's go Shopping!
See you on Sunday,
Diane Haworth
619.743-4263
Diane@RanchoSantaFeFarmersMarket.com
www.RanchoSantaFeFarmersMarket.com
16079 San

Dieguito

Rd. Rancho Santa Fe, CA 92091

_____________________________________
The Market will be Open Easter Sunday!

Don't miss our special Easter Market Sunday, April 20th!  Come out and celebrate the holiday with us while you shop for all of your Easter meal goodies and some fresh flowers to dress up your spring holiday table.
| | | |
| --- | --- | --- |
|  Fresh vegetables make an amazing addition to your Easter Brunch or Dinner! |  Pick up some delicious macaroons for dessert |  Grab a few potted plants to liven up your Spring Garden! |
Shhh

!  The Recipe is a Secret, but it's a Secret that will Keep You Coming Back for More!

Emilio's Spanish Seafood Paella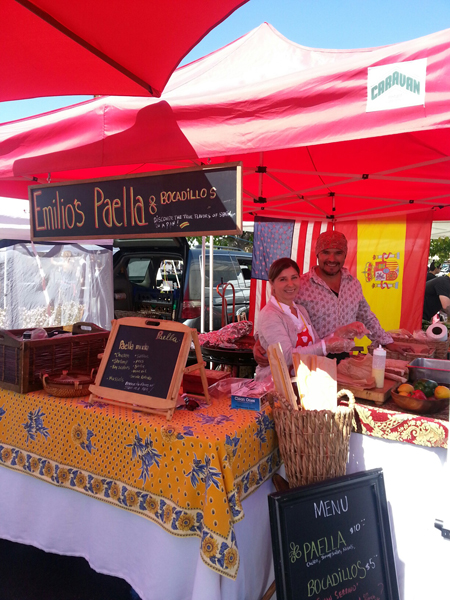 This week our vendor spotlight shines on Emilio and Judy who prepare fresh Seafood Paella every week,  along with Spanish Sandwiches and Gazpacho seasonally for your enjoyment.  Why not take home some Paella for dinner tonight!  Serve with sourdough and a mixed baby greens salad for a light supper.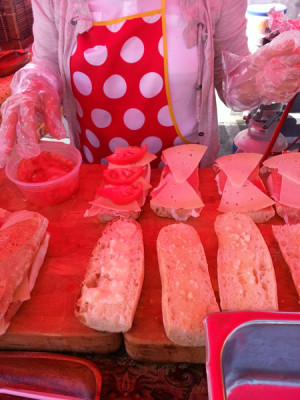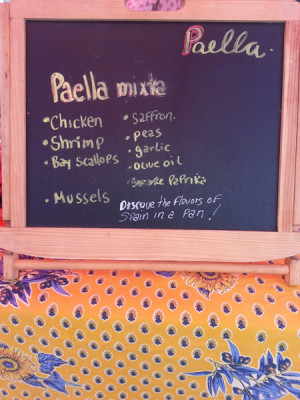 Emilio prepares his secret family recipe for all of us to enjoy. . .just don't ask him for the recipe,  it's a secret!
_____________________________________
Don't Miss these Special Market Events!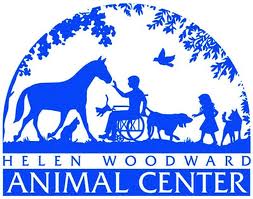 This week Helen Woodward Animal Center will be at the market with animals looking for a loving home for the next leg of their journey.  Maybe your family can open its heart this Easter and show an animal the love and respect they deserve.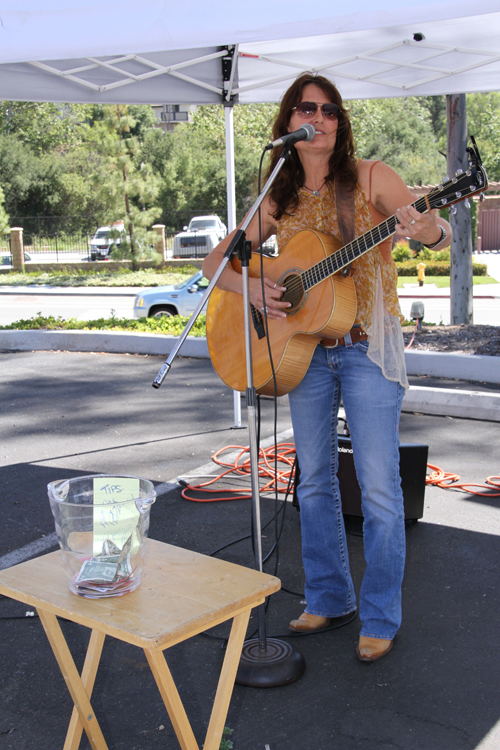 The Market is Full of the Beautiful Sound of Music for your Shopping Pleasure!

This Weeks talented live musician is the enchanting Lisa Campbell.
RANCHO SANTA FE FARMERS MARKET … MAKE IT A WEEKLY HABIT!
_____________________________________
This Week's RSF Fresh Market Recipe is. . .



Longevity Sweet Potato and Black Bean Costa

Rican

Melt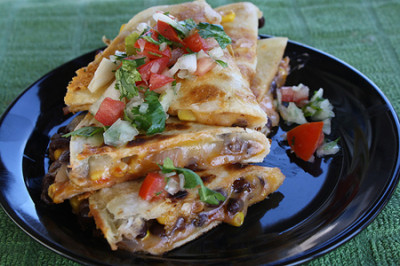 This is a quick and easy yet filling recipe chock full of foods that can help you to live longer, healthier lives! Michael and I were able to research the lifestyle and habits of the longest living people during the filming of their documentary on longevity over the past four years.
Here is a recipe I created in my cookbook which incorporates ingredients from several longevity villages wherein people live considerably longer than in mainstream or Westernized areas.In the village of Yuzurihara, Japan where people live considerably longer than in mainstream Japan, one of the staples of their diet are root vegetables like theJapanese Sweet potato and green onions I incorporated in the recipe below.  You can also substitute any variety of sweet potato.
The Japanese Potato I suggest is different than the Okinawan Sweet Potato but equally full of the hyaluronic acid producing benefits believed to contribute to longevity in Okinawa.  I also used cumin, a spice found throughout Asia and South America believed to have bacteria fighting properties and it is a good source of iron.  The onion contains zinc to promote good heart health, aid in cancer prevention, maintain healthy libido levels and acts as a super antioxidant.
From the Nicoya Peninsula of Costa Rica she added in the masa tortillas, black beans and cilantro.  These help to provide the needed proteins, chlorophyll and black beans have more antioxidants than cranberries.  I added in the Greek Yogurt found on the island of Symi in Greece for its beneficial probiotic properties, the garlic for its healing antibiotic, antifungal and antiviral properties, and the lime to help balance the acid and alkaline in the body, and finally the tomatoes in the Pico de Gallo have been shown as effect in reducing the risk of prostate cancer – when the tomato is cooked or in this case cured in the lime juice of the salsa it can increase our absorption of lycopene by up to one third the amount we would get from eating just a raw tomato.
What You Will Need and Where to Find It: Yields 6 wraps

1 cup cooked rice, warm or at room temperature
1 cup oven roasted Japanese purple potatoes, cubed (

Olivares

Farms)
1 cup cooked black beans, or 1 can black beans, rinsed and drained
1 green onion, finely sliced (white and green parts)  (Sage Mountain or Valdivia Farms)
1/4 cup fresh cilantro, chopped (Sage

Mountian

for

Kawano

Farms)
juice of 1 lime (Atkins Farms)
1/2 tablespoon chili powder
1 teaspoon ground cumin
1/2 teaspoon garlic salt
2 cups shredded Jack cheese (Thyme of Essence)
Greek Probiotic Yogurt – Plain  (Edible Alchemy)
6 handmade organic masa (corn) tortillas ( La

Playitas

or Gourmet Tamales)
2 Simple Steps to Prepare:

Mix rice together with chili powder, cumin and garlic salt. Add remaining ingredients except for cheese and yogurt. Spread 1 teaspoon of Greek yogurt over the tortilla and sprinkle cheese over top, leaving 1/2-inch border around edges, and arrange sweet potato and rice mixture on top of the cheese.  Fold tortillas in half.
Heat a large non-stick skillet (or griddle) over medium heat for 1 minute.  Place the folded tortillas, in pan or griddle and cook until golden brown and crisp, about 2-3 minutes per side.  Transfer to a plate and repeat with remaining tortillas.  Top with

Pico

de Gallo and a cilantro sprig serve warm.

RANCHO SANTA FE FARMERS MARKET … MAKE IT A WEEKLY HABIT!
_____________________________________
"Sadie" Brings the Sunshine!
Helen Woodward Animal Center introduces Sadie looking for a forever home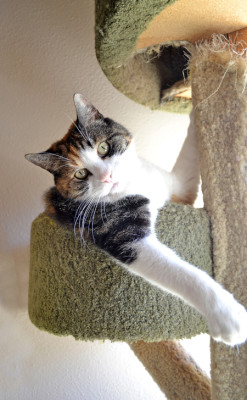 Meet Sadie, Pet-of-the-Week at Helen Woodward Animal Center! This quiet 9.5lb 10-year old domestic short hair blend is a cuddle-bug by nature and as friendly as they come. She's a bit shy as first but like spring in San Diego, she warms up quickly. Her gentle demeanor and loving personality will make her a glowing addition to many types of home environments. Need some more sunshine in your life? Come meet her today!
Sadie is waiting to meet you at Helen Woodward Animal Center. She has been altered and us up-to-date on all of her vaccinations. Her adoption fee is $106, and, as with all pets adopted from Helen Woodward Animal Center, she is micro chipped for identification.  As an added bonus, Sadie also comes with two free passes to Sea World!
Helen Woodward Animal Center is located at 6461 El Apajo Road in Rancho Santa Fe. Kennels are open daily Monday through Thursday from 12pm to 6pm; Fridays from noon to 7pm; Saturdays 10am to 6pm; and Sunday 11am to 6pm (last application accepted 15 minutes before closing)."
For more information call 858-756-4117, (option 1) or visit www.animalcenter.org.
RANCHO SANTA FE FARMERS MARKET … MAKE IT A WEEKLY HABIT!