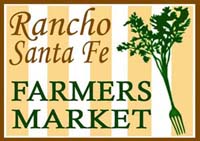 Dear Friends,
It is a very eventful weekend in Rancho Santa Fe!  Pick up fresh peaches and other delicious goodies at the Market and then stay for Buster's Memorial Car Show in the Del Ray Center.  Live music will fill the air at both events!
DON'T FORGET, our weekly Rancho Santa Fe Certified Farmers Market is open from 9:00 AM to 1:30 PM.  Look for your favorites and new vendors each week.  It is the perfect place for local shopping to fill your fridge with fresh produce and more!
Remember, to bring an ice chest in your car or on wheels so you can enjoy a nice lunch made fresh for you right at the market.  Also come to enjoy our live entertainment in the comfort of new Market umbrellas, bistro tables and chairs.
Rancho Santa Fe Farmers Market … Make it a weekly habit.  Let's go Shopping!
See you on Sunday,
Diane Haworth
619.743-4263
Diane@RanchoSantaFeFarmersMarket.com
www.RanchoSantaFeFarmersMarket.com
16079 San

Dieguito

Rd. Rancho Santa Fe, CA 92091

_____________________________________
Peaches Have Sprung into Season at the Market!
See Smit Farms is the Vendor to See for all of Your Fresh Fruit Needs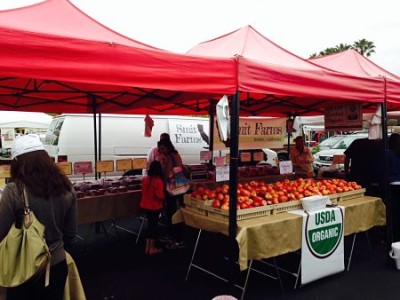 Smit Farms has a plethora of fresh seasonal fruits!  They have peaches, apples, tangelos, almonds, flavored almonds, dried fruit and more.  Smit Farms has fresh pressed Apple Juice and ice cold fresh Pomegranate Juice each week.  They also carry Enzo Olive Oil!  Learn more about Smit Farms at www.smitfarms.com
_____________________________________
This Weeks Fresh Market Recipe is a Perfect Spring Dessert!

Rancho Santa Fe Farmers Market Raw Peach Pie

For the Pie Crust:
2 Cups Walnuts, chopped
1/4 Cup Organic Raisins (Smit Orchards)
1/4 Cup Dates, pitted
Pinch of Himalayan Salt
1/8 tsp Freshly Grated Cinnamon from stick
Combine all ingredients in a food processor and pulse until crumbly. Take out 1/2 and put to the side for topping.
Process the rest until it is sticky and forming a ball, then remove and press into a pie pan, I prefer glass.
For the Filling:
8 Medium Peaches, pitted and sliced (Smit Orchards)
1/2 Cup Dates, pitted
1/4 cup Raw Agave (Optional – Thyme of Essence)
1 Tbl Psylium Husk (available in health food stores or online)
1 tsp cold ground chia seeds
1/8 tsp Grated Lemon Zest (Atkins Farms)
1/8 tsp Freshly Grated Cinnamon from Stick
1/8 tsp of Nutmeg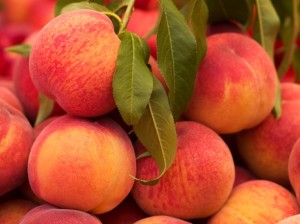 To Prepare the Filling:
Put 1/2 of sliced peaches in the food processor or in a Vitamix with remaining ingredients. Process until smooth.
Combine in a bowl with remaining sliced peaches.  Gently mix thoroughly with a spatula.  Pour mixture on top of the crust and gently add the remaining pie crust crumble on top.  Refrigerate to set and serve cold.  Raw Pie makes a great breakfast for a real treat!
Enjoy!

RANCHO SANTA FE FARMERS MARKET … MAKE IT A WEEKLY HABIT!
_____________________________________
Stay After the Market for Buster's Car Show!



Buster's 4th Annual Memorial Car Show is Revving Up!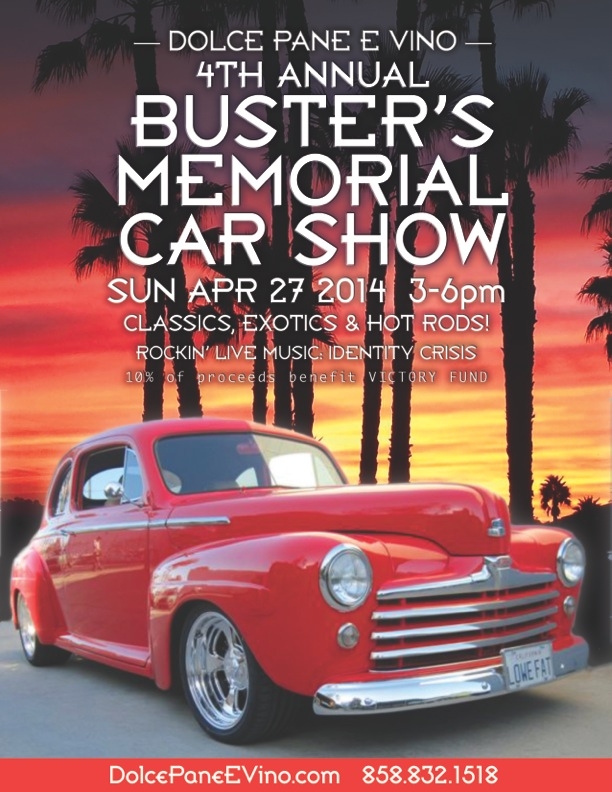 This Sunday immediately following the RSFFM stay for Buster's Memorial Car Show in the Del Rayo Village Shopping Center.  It is going to be a full day in Rancho Santa Fe so don't miss it.  Come early for the market and stay for the Car Show.  There will be LIVE MUSIC at both events!  Remember to bring an ice chest to store your farmers market goodies while you enjoy the car show!
For More Information on the Car Show Please Visit:
www.dolcepaneevino.com/category/events/busters-car-show
LIVE Market Music Will be Provided By:

_____________________________________
"Like Us" TODAY AND YOU COULD WIN A CSA PRODUCE BOX OR $20 IN MARKET BUCKS!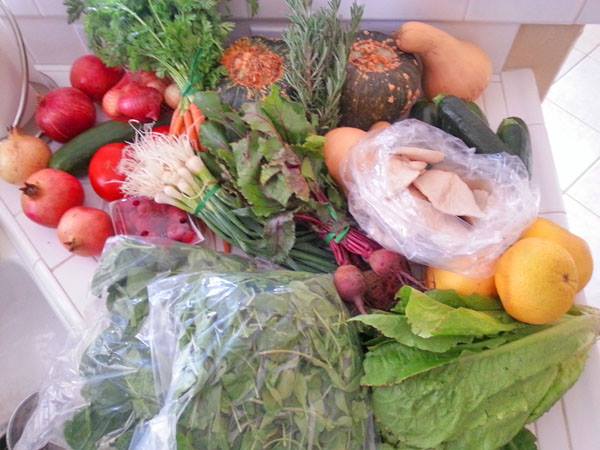 Win this BEAUTIFUL arrangement of produce by simply clicking the links below and "Liking Us"!  Each "Like" goes into a pool, so by liking ANY of our Facebook posts or joining our email list, you are getting another chance to win!  The more posts you "Like" the more entries you will have in the drawing.  A new winner will be chosen each week!
CLICK ON THE LINKS BELOW

#1 Join our email list by clicking here, or from one of our special signs at the Market. If you have already joined our list you will be automatically entered each and every week.

#2 Enter as many time as you want by clicking LIKE on our Facebook Page, LIKE on our Facebook Photos and LIKE on our Facebook Comments, every Facebook LIKE is a another entry!
RANCHO SANTA FE FARMERS MARKET … MAKE IT A WEEKLY HABIT!
_____________________________________
Kitty Outlaw "Butch Cat-sidy" Steals Your Heart!
Helen Woodward Animal Center introduces Butch looking for a forever home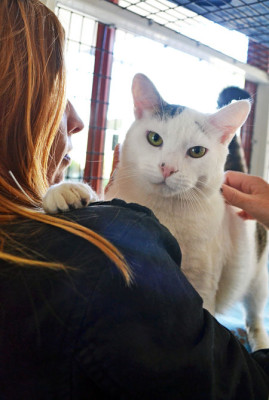 Meet Helen Woodward Animal Center's Pet-of-the-Week, Butch! This 1-year old, 8lb domestic short hair blend is looking for a loving partner in adventure. He is a young, playful cat with tons of spirit and spunk. He's chatty, and always asks for attention with a polite mew and a nuzzle- what a gentleman! It's "all aboard" the Butch bandwagon at the Center, choo choo!
Butch is waiting to meet you at Helen Woodward Animal Center. He has been neutered and is up-to-date on all of his vaccinations. His adoption fee is $119, and, as with all pets adopted from Helen Woodward Animal Center, he is micro chipped for identification.  As an added bonus, Butch also comes with two free passes to Sea World!
Helen Woodward Animal Center is located at 6461 El Apajo Road in Rancho Santa Fe. Kennels are open daily Monday through Thursday from 12pm to 6pm; Fridays from noon to 7pm; Saturdays 10am to 6pm; and Sunday 11am to 6pm (last application accepted 15 minutes before closing)."
For more information call 858-756-4117, (option 1) or visit www.animalcenter.org.
The Ken-Barky Derby returns to Helen Woodward Animal Center on Friday, May 2!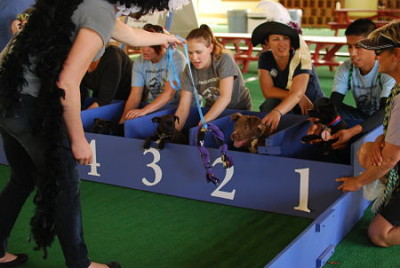 The public is invited to don their finest spectator hats and root for their favorite at this "Run with the Noses" Competition. Each adopter of a Ken-Barky Derby Puppy will be automatically entered to win a Ken-Barky Derby, rose-themed gift basket and a "gold cup" pet bowl. A prize will be awarded for Best Animal-Themed Derby hat too!
9 a.m.: Our wonderful instructors from Helen Woodward Animal Center's Education program are putting together a morning craft session of Ken-Barky Derby Hat making and Cheer/Puppy Sign making, as well as an educational lesson for the kids that will be taught as they put together these fun Ken-Barky Derby props. Children's school and play groups (as well as individual children) welcome! Please RSVP in advance. We request that each attending child bring one can of food to donate to our AniMeals program.
11 a.m.: "Gelding" and "filly" orphan puppies (bearing the names of contending Derby Horses) go nose-to-nose! The adorable spectacle lures pups from "the starting gates" to the finish line with rose-shaped dog biscuits, ultimately aiming to end each "race" in the arms of a loving family.  WHERE:  Helen Woodward Animal Center Paddock Arena, at 6461 El Apajo Road, in Rancho Santa Fe, California, 92067
RANCHO SANTA FE FARMERS MARKET … MAKE IT A WEEKLY HABIT!