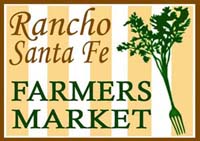 Dear Friends,
It is going to be a beautiful day this Sunday and what better way to enjoy it than by shopping for all of your favorite fresh foods at the Market? Make sure to see our vendor of the week, Da-Le Ranch for fresh eggs and all of your other farm fresh needs. Free Spirit the clown will be joining us for face painting at the kids booth, so there is fun for every member of the family at the Rancho Santa Fe Farmers Market!
DON'T FORGET, our weekly Rancho Santa Fe Certified Farmers Market is open from 9:00 AM to 1:30 PM in the Del Rayo Village Shopping Center. Look for your favorites and new vendors each week and check out the new tenants in the center while you are there.
Rancho Santa Fe Farmers Market is the perfect place for shopping local to fill your fridge with fresh produce and flowers, delicious treats, prepared meals to go and more!
Remember, to bring an ice chest in your car or on wheels so you can relax and enjoy a nice lunch made fresh for you right at the market. Take a few minutes to slow down and enjoy our live entertainment with your family and friends in the comfort of new Market umbrellas, bistro tables and chairs!
Rancho Santa Fe Farmers Market … Make it a weekly habit. Let's go Shopping!
See you on Sunday,
Diane & Michael
619.743-4263
Diane@RanchoSantaFeFarmersMarket.com
www.RanchoSantaFeFarmersMarket.com
Located in the Del Rayo Village Shopping Center at 16079 San

Dieguito

Rd. Rancho Santa Fe, CA 92091

_____________________________________
Fresh Products Straight from the Farm!

Da-Le Ranch is the Vendor of the Week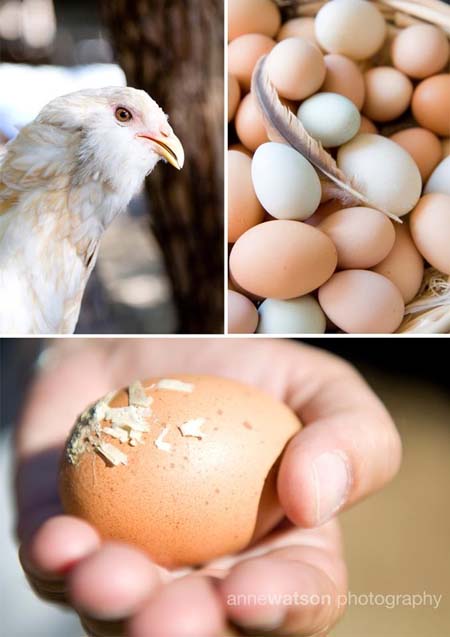 Da-le Ranch is a small, sustainable family farm, located in Southern California's Central Inland Empire. Stop by and see Ashlie who has a wealth of information on eggs, chickens and so much more at the ranch!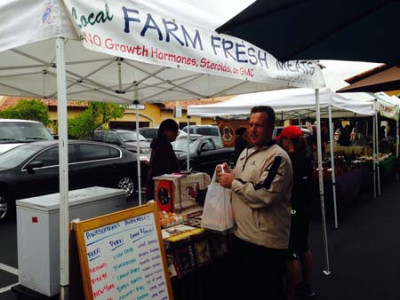 What they offer: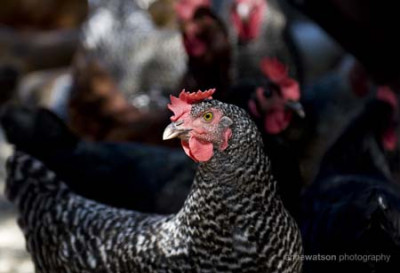 FARM-FRESH MEAT. Our animals are raised in open areas, not cramped into small containers or pens. No Contained Area Farming Operations (CAFO's) OR feed lots here! We feed no hormones, steroids, incremental antibiotics or GMO's. All the animals get lots of fresh veggies and fruits, in addition to grass, and our proprietary feed blends.
GRASS-FED BEEF AND LAMB: At Farmer's Markets, most cuts are available for pickup or order for delivery at a subsequent market. Quarter, half and full sides of beef are available by advance order. In addition to individual cuts of lamb, we offer half and whole sides.
PIGS: NO added hormones or steroids…just delicious, small farm-raised, eating loads of local fruit, vegetables, and supplemented with a proprietary feed and grass. Various mixed breeds, sized from weaners, to roasters for your backyard BBQ and freezer pack size.
CHICKENS: Various tasty breeds, mostly brown egg layers, with a few "Easter" eggers (pale pink to greenish/blue eggs). Meat chickens are delicious, juicy and a very popular item – naturally pastured birds scratching out a living doing what chickens love to do! They love veggies too!
ROOSTERS
are also available by pre-order for making the absolute best broth or
coq au vin
.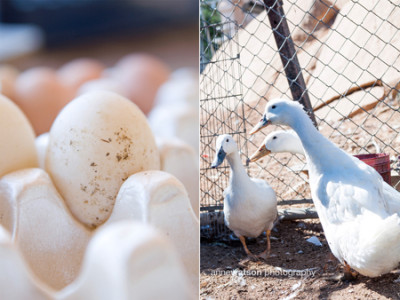 OTHER FOWL: Turkey, duck, pheasant, quail, chukar partridge and geese are grown both on the farm and at several other (more predator-free) farms.
EGGS: Chicken, duck, quail, goose, chukar and guinea fowl eggs are available for pickup at the Farmer's Markets, when in season. Our farm-fresh eggs are supreme!
RABBITS
: Mixed breeds for pets, New Zealand Whites for meat. Used cages, feeders and nesting boxes also available if you want to raise your own.

Ask how to partner with us in our new URBAN FARMING 101 series with rabbits and chickens.Meats sold by-the-cut at Farmer's Markets or picked up at the farm are always U.S.D.A. inspected.
The First Corn of the Season is here at Kawano Farms!
Pick up some fresh corn to use in this week's Fresh Market Recipe while you shop for other delicious vegetables at Kawano Farms booth.
RANCHO SANTA FE FARMERS MARKET … MAKE IT A WEEKLY HABIT!
_____________________________________
This Weeks Fresh Market Recipe is Full of Color and Flavor!

Heirloom Sugar Snap Pea and Grilled Corn Salad with Grilled Citrus Pesto Swordfish


What You Will Need for the Salad:
4 Ears of Corn on the Cob, husks and silk removed (Kawano Farms)
1/2 pound of Heirloom Sugar Snap Peas (Kawano Farms)
1 small onion, diced (Valdivia or Sage Mountain Farms)
1/4 cup chopped flat leaf parsley (Sage Mountain)
1 Tablespoon of Olive Oil (Terroir by the Sea)
1 Fresh Serrano or Jalapeno Pepper, seeds removed and diced (Sage Mountain)
3 Tablespoons red wine vinegar
2 teaspoons ground cumin
Fresh Ground Salt and White Pepper to taste
What You Will Need for the Grilled Swordfish:
4 Med Sword Fish filets (Robbie's Fish)
2 Tablespoons Olive Oil (Thyme of Essence)
Basil Top Pine Nut Pesto (Basil Tops)
1 Lemon, juiced – seeds removed
Ground Salt and Pepper to Taste
Let's Get to Cooking!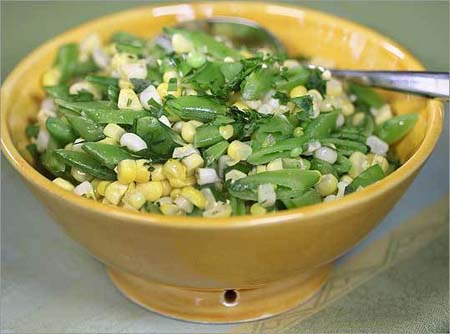 To Prepare the Salad:
Grilled corn until blistered and lightly charred. Carefully remove kernels and set aside. In a 2 quart saucepan heat the olive oil over medium flame and add the diced onion and chili, cooking until the onions translucent. Add the cumin and continue to cook another minute. Add the snap peas and gently saute for 2 and a half minutes just until color brightens and peas are still crisp.
Remove from heat and toss with the corn and remaining ingredients. Season to taste. This dish is delicious served warm or you can chill it and serve later. Makes a great side dish, or for a quick light summer serve with Grilled Swordfish!
To Prepare the Citrus Pesto Swordfish:
Coat both sides of the filets and sprinkle with salt and pepper. Grill for 3 to 4 minutes per side. Transfer to serving plate and sprinkle lemon juice over the filets. Top with a dollop of Basil Tops Pesto Sauce and a sprig of fresh basil and serve with Spring Heirloom Sweet Pea and Grilled Corn Salad.
Bon Appetit!

RANCHO SANTA FE FARMERS MARKET … MAKE IT A WEEKLY HABIT!
_____________________________________
Special "Must See" Aspects of the Market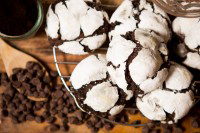 The Market Managers Favorite Find of the Week is . . .

"The Cravory's Lindt Swiss Chocolate Truffle Cookies"
Make sure you stop by the Cravory's booth on Sunday and taste this scrumptious cookie. You are in for a real treat!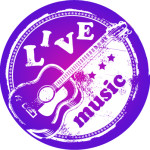 LIVE Market Music Will be Provided By:
Enjoy the musical talents of Gus Mezza while you shop and relax at the Market!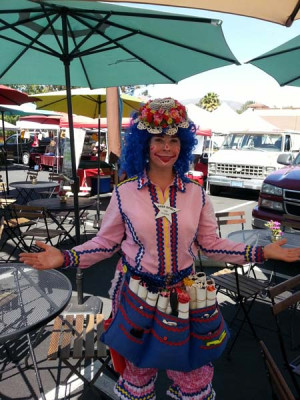 Fun for the Kids this Sunday at the Rancho Santa Fe Farmers Market
Face Painting with Free Spirit this Sunday at RSF Kids Booth!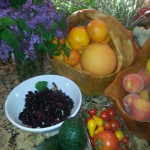 The Rancho Santa Fe Farmers Market is full of unique products
Explore the Market and taste all sorts of fresh foods that you can take home with you!
RANCHO SANTA FE FARMERS MARKET … MAKE IT A WEEKLY HABIT!
_____________________________________
"Like Us" TODAY AND YOU COULD WIN A CSA PRODUCE BOX OR $20 IN MARKET BUCKS!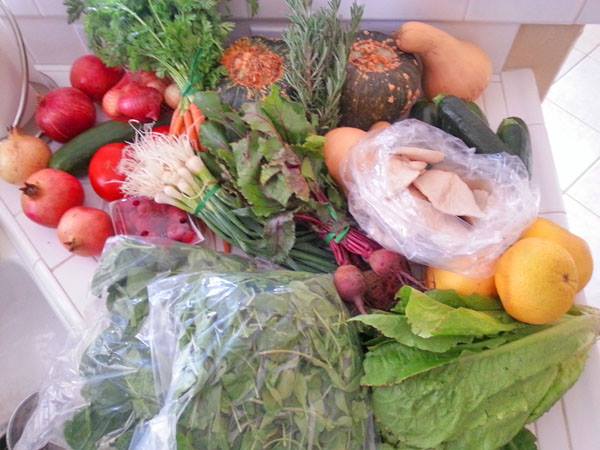 Win this BEAUTIFUL arrangement of produce by simply clicking the links below and "Liking Us"! Each "Like" goes into a pool, so by liking ANY of our Facebook posts or joining our email list, you are getting another chance to win! The more posts you "Like" the more entries you will have in the drawing. A new winner will be chosen each week!
CLICK ON THE LINKS BELOW

#1 Join our email list by clicking here, or from one of our special signs at the Market. If you have already joined our list you will be automatically entered each and every week.

#2 Enter as many time as you want by clicking LIKE on our Facebook Page, LIKE on our Facebook Photos and LIKE on our Facebook Comments, every Facebook LIKE is a another entry!
RANCHO SANTA FE FARMERS MARKET … MAKE IT A WEEKLY HABIT!
_____________________________________
"Hershey" Seals Friendship with a Kiss!
Helen Woodward Animal Center introduces Hershey looking for a forever home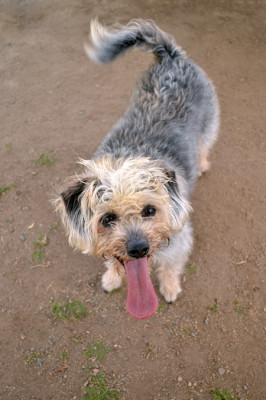 Meet Helen Woodward Animal Center's Pet-of-the-Week, Hershey! This sweet 5-year old, 22lb Miniature Schnauzer-Terrier blend is a real treat. She's loving, confident, and tons of fun. Hershey's favorite activities include playing ball and turning frowns upside-down. She's a big fan of kisses and is sure to give you some sugar if you stop by to meet her today!
Hershey is waiting to meet you at Helen Woodward Animal Center. She has been spayed and is up-to-date on all of her vaccinations. Her adoption fee is $269, and, as with all pets adopted from Helen Woodward Animal Center, she is micro chipped for identification. As an added bonus, Hershey also comes with two free passes to Sea World!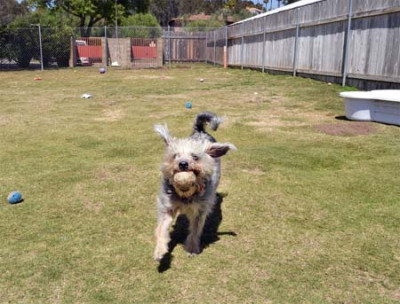 Helen Woodward Animal Center is located at 6461 El Apajo Road in Rancho Santa Fe. Kennels are open daily Monday through Thursday from 12pm to 6pm; Fridays from noon to 7pm; Saturdays 10am to 6pm; and Sunday 11am to 6pm (last application accepted 15 minutes before closing)."
For more information call 858-756-4117, (option 1) or visit www.animalcenter.org.
The Ken-Barky Derby returns to Helen Woodward Animal Center on Friday, May 2!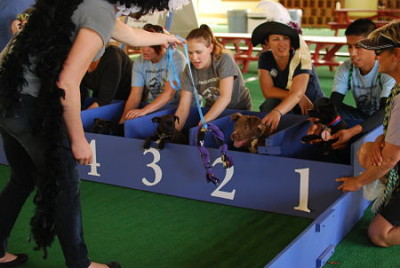 The public is invited to don their finest spectator hats and root for their favorite at this "Run with the Noses" Competition. Each adopter of a Ken-Barky Derby Puppy will be automatically entered to win a Ken-Barky Derby, rose-themed gift basket and a "gold cup" pet bowl. A prize will be awarded for Best Animal-Themed Derby hat too!
9 a.m.: Our wonderful instructors from Helen Woodward Animal Center's Education program are putting together a morning craft session of Ken-Barky Derby Hat making and Cheer/Puppy Sign making, as well as an educational lesson for the kids that will be taught as they put together these fun Ken-Barky Derby props. Children's school and play groups (as well as individual children) welcome! Please RSVP in advance. We request that each attending child bring one can of food to donate to our AniMeals program.
11 a.m.: "Gelding" and "filly" orphan puppies (bearing the names of contending Derby Horses) go nose-to-nose! The adorable spectacle lures pups from "the starting gates" to the finish line with rose-shaped dog biscuits, ultimately aiming to end each "race" in the arms of a loving family. WHERE: Helen Woodward Animal Center Paddock Arena, at 6461 El Apajo Road, in Rancho Santa Fe, California, 92067