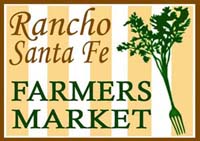 Dear Friends,
The Market is growing each week as more and more fresh fruit and produce arrive.  This week, look for nectarines at Smit Orchards and the beautiful produce boxes at Sage Mountain Farms.  You may even be our monthly produce box winner, keep reading to find out!

DON'T FORGET, our weekly Rancho Santa Fe Certified Farmers Market is open from 9:00 AM to 1:30 PM in the Del Rayo Village Shopping Center.  Look for your favorites and new vendors each week and check out the new tenants in the center while you are there.
Rancho Santa Fe Farmers Market is the perfect place for shopping local to fill your fridge with fresh produce and flowers, delicious treats, prepared meals to go and more!
Remember, to bring an ice chest in your car or on wheels so you can relax and enjoy a nice lunch made fresh for you right at the market.  Take a few minutes to slow down and enjoy our live entertainment with your family and friends in the comfort of new Market umbrellas, bistro tables and chairs!
Rancho Santa Fe Farmers Market … Make it a weekly habit.  Let's go Shopping!

See you on Sunday,                                                               Like Us on Facebook
Diane & Michael
619.743-4263
Diane@RanchoSantaFeFarmersMarket.com
www.RanchoSantaFeFarmersMarket.com
Located in the Del Rayo Village Shopping Center at 16079 San

Dieguito

Rd. Rancho Santa Fe, CA 92091

_____________________________________
Sage Mountain Farms is the Vendor to See!

Amazing Fresh Produce Hand Selected for You Each Week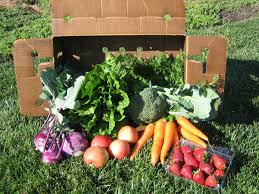 Sage Mountain Farms is an Organic produce vendor that brings fresh, delicious produce to the Market each week.  From carrots and Avocados to Kale and Herbs, Sage Mountain Farms brings all the high quality produce that you can imagine!  They also offer a CSA Produce box program in which you can pick up a box stuffed full of the freshest produce they have each week at the Market.

 "Because it's so easy for a conventional farm to contaminate an organic farm, we enjoy farming in the wilderness – far away from all conventional farms – and we practice and maintain organic, sustainable farming practices.
    All of our fruits and vegetables are grown on our family farm using sparkling clean natural well water and healthy organic processes. At our high desert property, we also use organic guidelines to raise steers, chickens and pigs." – Sage Mountain Farms
The list below is what is included in this week's CSA Produce Box.  Please note that boxes can vary from day to day, depending on Mother Nature and what is and isn't ripe enough to harvest.  If you are missing any of these items, we have included more of something else to compensate.  Find out more at www.sagemountainfarm.com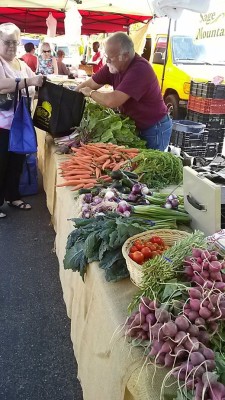 This Weeks CSA Produce Box:
Arugula (Large Box)

Avocados

Beets Shiraz

Broccoli Leaves

Broccoli Raab

Carrots

Dandelion

Kale Dino (Large Box)

Onions Purple Scallions

Onions Green Scallions

Potatoes Yukon Gold

Rosemary or Oregano

Swiss Chard

Hot Chili Peppers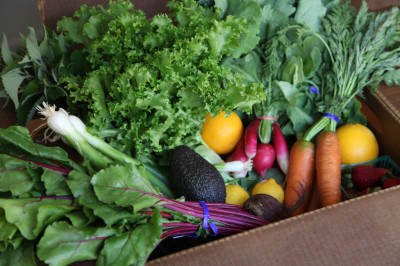 CONGRATULATIONS LUC ANDERSON, You Won a CSA Produce Box!

Congratulations to LUC ANDERSON, this month's "Like Us" winner.  Please stop by the Managers booth at the Market this Sunday to claim your CSA Produce Box.
If you want to win a CSA Produce Box, simply enter the "Like Us" contest using the instructions at the bottom of this post!

LISA CAMPBELL joins us at the Rancho Santa Fe Farmers Market

This weeks talented live musician is the enchanting Lisa Campbell.  Relax at a Market bistro table and enjoy the sunny weather and a fresh Market Meal while you listen to Lisa perform.

_____________________________________
Enjoy a Delectable Dessert for this Weeks Fresh Market Recipe

Baked Nectarines with Pistachios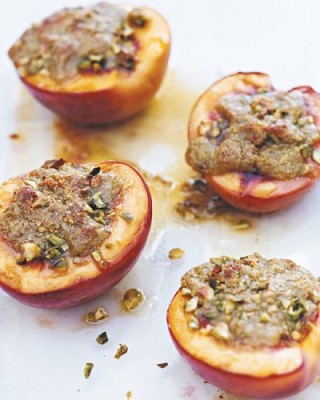 You can enjoy stone fruits now, coaxing even firm nectarines to tenderness by baking them. With each spoonful of this simple dessert recipe shared by Martha Stewart, a rich, crunchy pistachio topping gives way to soft, juicy fruit.
What you will need: (Prep – 5 minutes, Total Time – 20 minutes, Serves 4)

4 tablespoons shelled pistachios (Hopkins)

2 tablespoons unsalted butter (Franks Cheese)

1/2 cup confectioners' sugar

2 drops (less than 1/8 teaspoon) almond extract (optional)

1/8 teaspoon salt

2 nectarines, halved and pitted (Smit)

1/2 lemon (Atkins)

1/2 cup creme fraiche

1 tablespoon granulated sugar
Preparation:
Step 1

Preheat oven to 400 degrees. Chop 3 tablespoons

pistachios

in a food processor until finely ground. Add butter, confectioners' sugar, almond extract, and salt. Process until combined.

Step 2

Place nectarines, cut side up, on a baking sheet, and squeeze lemon over top. Place a generous tablespoon of pistachio mixture on each

nectarine

half. Chop remaining tablespoon pistachios, and sprinkle on top. Bake until fruit is tender and topping is crisp, 10 to 15 minutes. Let cool for 5 minutes. Transfer to 4 plates.

Step 3

Whisk together creme fraiche and granulated sugar. Spoon over nectarines, and serve.
Enjoy!

_____________________________________
"Like Us" TODAY AND ENTER TO WIN A FREE CSA PRODUCE BOX!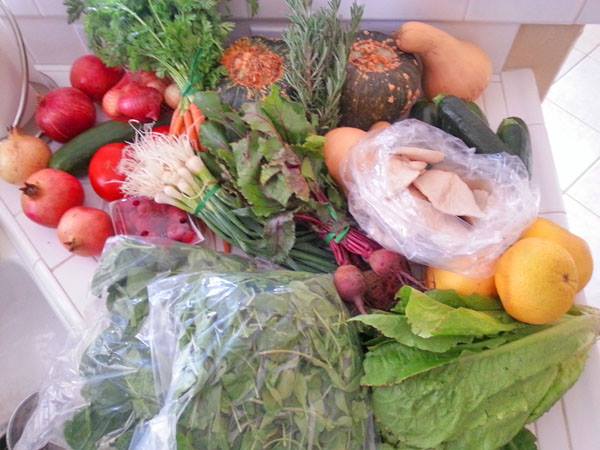 You could win a free Sage Mountain Farms Produce Box by simply clicking the links below and "Liking Us"!  Each "Like" goes into a pool, so by liking ANY of our Facebook posts or joining our email list, you are getting another chance to win!  The more posts you "Like" the more entries you will have in the drawing.  A new winner will be chosen each month!
CLICK ON THE LINKS BELOW

#1 Join our email list by clicking here, or from one of our special signs at the Market. If you have already joined our list you will be automatically entered each and every week.

#2 Enter as many time as you want by clicking LIKE on our Facebook Page, LIKE on our Facebook Photos and LIKE on our Facebook Comments, every Facebook LIKE is a another entry!
_____________________________________
"Lalo" Leaps into Hearts!
Helen Woodward Animal Center introduces Lalo looking for a forever home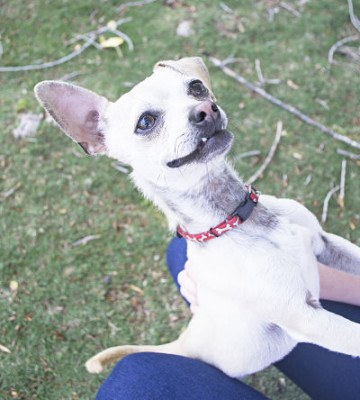 Meet Helen Woodward Animal Center's Pet-of-the-Week, Lalo! This one-year old, 8.5lb Chihuahua blend just adores other dogs and looks forward to his doggy play dates. Center staff members love his spunk and regularly stop by to watch him running, jumping and playing his little heart out. He can even jump into your arms! He always seems to have a wagging tail and his cheerful attitude is contagious. Meeting him is guaranteed to make you smile, and loving him will fill your heart. Take your own leap of faith and meet him today!
Lalo is waiting to meet you at Helen Woodward Animal Center. He has been neutered and is up-to-date on all of his vaccinations. His adoption fee is $299, and, as with all pets adopted from Helen Woodward Animal Center, he is micro chipped for identification.  As an added bonus, Lalo also comes with two free passes to Sea World!
Helen Woodward Animal Center is located at 6461 El Apajo Road in Rancho Santa Fe. Kennels are open daily Monday through Thursday from 12pm to 6pm; Fridays from noon to 7pm; Saturdays 10am to 6pm; and Sunday 11am to 6pm (last application accepted 15 minutes before closing)."
For more information call 858-756-4117, (option 1) or visit www.animalcenter.org.
RANCHO SANTA FE FARMERS MARKET … MAKE IT A WEEKLY HABIT!