Shop Local, Support Local at The Rancho Santa Fe Farmers Market!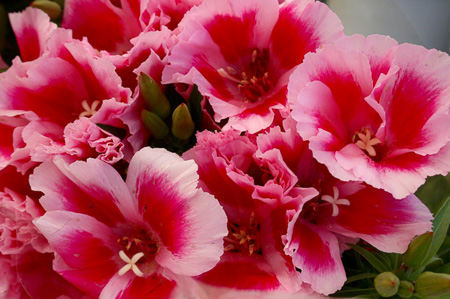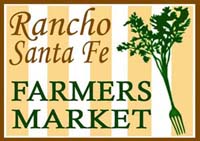 Dear Friends,
It's time for another gorgeous, sunny day here at the Rancho Santa Fe Farmers Market! Bring your appetite and relaxing mode this Sunday – There will be an abundance of fresh produce and fruit, delicious hot meals, beautiful handcrafted goods, lovely live music, and an amazing atmosphere to spend your Sunday in. Be sure to stop by Bloom Essence this Sunday to check out some amazing, natural spa products designed to specifically align with your individual elemental energies. See you there!
Remember, to bring an ice chest in your car or on wheels so you can relax and enjoy a nice lunch made fresh for you right at the market. Take a few minutes to slow down and enjoy our live entertainment with your family and friends in the comfort of new Market umbrellas, bistro tables and cafe chairs!
Rancho Santa Fe Farmers Market…Make It A Weekly Habit!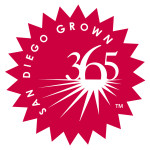 See you on Sunday,
Diane & Michael
619.743-4263
Diane@RanchoSantaFeFarmersMarket.com
www.RanchoSantaFeFarmersMarket.com
Located in the Del Rayo Village Shopping Center at 16079 San Dieguito Rd. Rancho Santa Fe, CA 92091
_____________________________________
Vendor Spotlight
Bloom Essence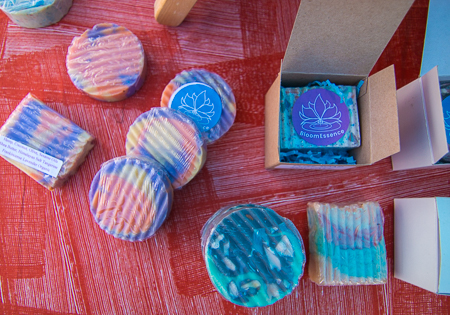 Bloom Essence creates powerful, natural spa products designed to specifically align with your individual elemental energies. What makes Bloom Essence Salts and bath soaps so different and how can they change your life?
The benefits of bath salts are not just skin deep. It's true that herbal bath salts cleanse the outer body with beneficial minerals and nutrients that keep your skin smooth, soft, and supple. The enormous benefit we cannot see or feel from the outside is how they allow the internal release of that which no longer serves us.
We eat organically and drink structured water to improve our well-being. The next phase is to energetically cleanse internally. A recent phone call explained, "as I was preparing the salts I began crying for no apparent reason, before entering the water."
We are on the threshold of "the alchemy of energy" and how via transdermal absorption, energy enters our bodies. The 5 element systems within the Ayurvedic and Chinese cultures are now emerging into the open light of understanding. Every individual essence of each product has a harmonious relationship to one another. It's a natural universal connection based on synergetic attractions totally in an alignment with the human body.
Bloom Essence Salts
Bloom Essence salts are specifically combined to match the human constitution. The good news? There's no Epsom Salts in any of our products. At Bloom Essence we use superior salts that align with the human body naturally.
Bloom Essence Soaps
Bloom Essence's Airbath Recharging Soaps are full of powerful, natural ingredients that are always globally sourced. Our various formulas are packed with natural, healthy vegan oils that truly enrich the human skin! Some of these vegan oils include: Coconut, Almond, Primrose, Argan, Hemp, Jojoba, Grape Seed, Castor, Sesame, Walnut, Hazelnut, Flax, Sunflower, Borage, Olive, Shea Butter, Rose Seed oils and then some.
The oils are then synergetically combined with the power of Essential oils, including Rosemary, Frankincense, Lavender, Spearmint, Thyme, Cedarwood, Lemon, Pine, Patchouli, Eucalyptus, Peppermint, Orange, Basil, Lemongrass, and Lime.
Stop by Bloom Essence this Sunday to check out our salts and soaps!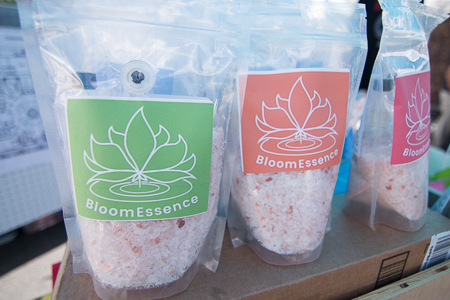 ____________________________________
Congratulations to Our $25 "Like Us On Facebook" Winner!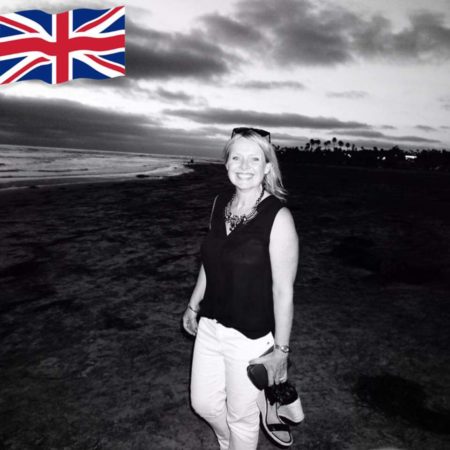 A big congratulations to Inga Brydson, our "Like Us on Facebook" winner this week. Please stop by the Manager's booth this Sunday and pick up your $25 in Market Bucks!
_____________________________________
Rancho Santa Fe Farmers Market Gift Cards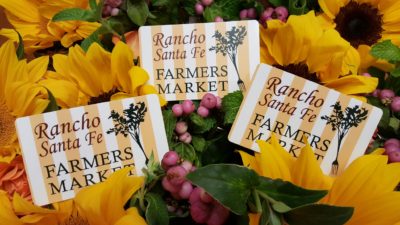 Don't forget to pick up a Rancho Santa Fe Farmers Market Gift Card while you're shopping! These gift cards make great Hostess Gifts, Holiday Gifts, and Thank You gifts for any time of the year and are especially perfect for the upcoming holidays. Gift cards can be purchased in any denomination and are available at the Market Information Booth.
Gorgeous Colors and Flavors at the Rancho Santa Fe Farmers Market!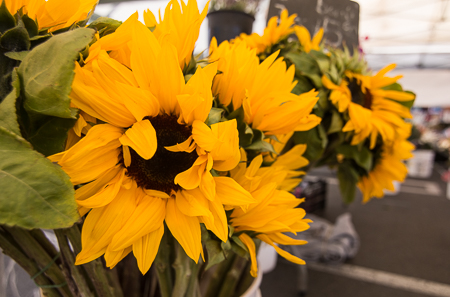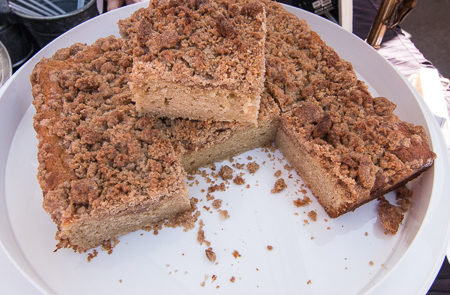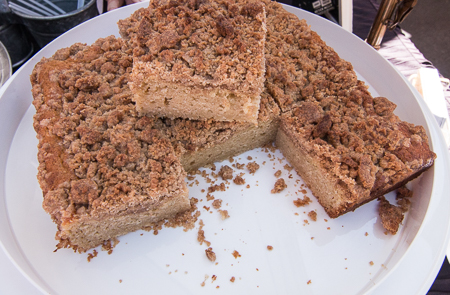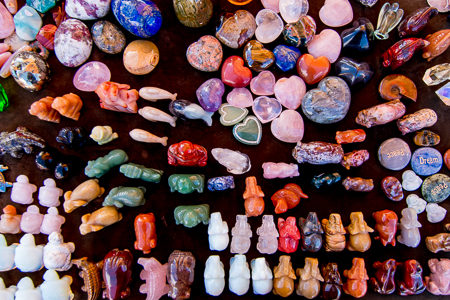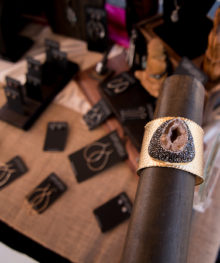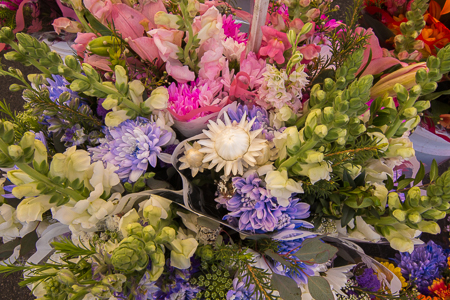 Live Original Music by Son Pa Ti


The wonderfully talented group, Son Pa Ti, is joining us this week! Pick up a fresh Market meal and relax under an umbrella as you listen to them perform.

_____________________________________
Helen Woodward Animal Center Pet Of The Week
Mary, Mary, Quite Extraordinary!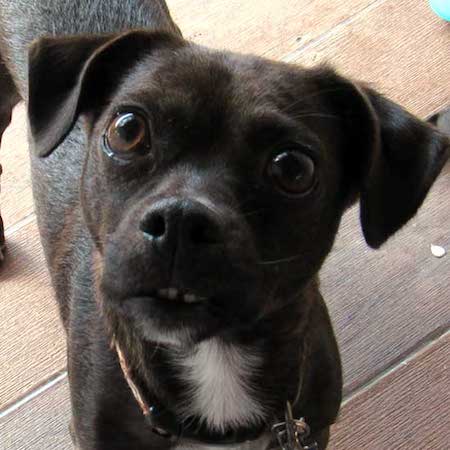 Mary, Mary, quite extraordinary; how does your garden grow? With wagging tails, and happy trails, and a family to call my own… Mary is a very sweet young Chihuahua/Pug blend with a tough past. She was found pregnant with two other young mothers, abandoned. Now that she has weaned her puppies and sent them into loving forever homes, it's her turn to find true love! At just under two-years old, she has a strong desire to bond with people and loves cuddles and walks. We keep telling her that the tough times are behind her, and a bright future is ahead. Will you be her bright future?
Mary is waiting to meet you at Helen Woodward Animal Center. Her adoption fee is $311. She has been altered and is up-to-date on all of her vaccinations.  As with all pets adopted from Helen Woodward Animal Center, he is micro-chipped for identification.
Helen Woodward Animal Center is located at 6461 El Apajo Road in Rancho Santa Fe. Kennels are open daily Monday through Thursday from 12pm to 6pm; Fridays from noon to 7pm; Saturdays 10am to 6pm; and Sunday 11am to 6pm (last application accepted 15 minutes before closing). For more information call 858-756-4117, option #1 or visitwww.animalcenter.org.
"Share Us" ON FACEBOOK AND ENTER TO WIN $25 IN MARKET BUCKS!
You could win $25 in RSF Market Bucks by simply clicking the links below and "Share Us"! Each time you "share" one of our posts it goes into a pool, so by liking ANY of our Facebook posts or joining our email list, you are getting another chance to win! The more posts you "Like" the more entries you will have in the drawing. A new winner will be chosen each month!
CLICK ON THE LINKS BELOW


#1 Join our email list by clicking here, or from one of our special signs at the Market. If you have already joined our list you will be automatically entered each and every week.


#2 Enter as many time as you want by clicking LIKE on our Facebook Page, LIKE on our Facebook Photos and LIKE on our Facebook Comments, every Facebook LIKE is a another entry!
Do you read online reviews? We do, and so do other customers. That's why we'd love it if you would take just a quick moment to review your experience at our Farmers Market.
Here are links for two great review sites:
THANK YOU, WE REALLY APPRECIATE IT!
Save
Save
Save
Save
Save
Save
Save
Save
Save
Save
Save
Save
Save
Save
Save
Save
Save
Save
Save
Save
Save
Save
Save
Save
Save
Save
Save
Save
Save
Save
Save
Save
Save
Save
Save
Save
Save
Save
Save
Save
Save
Save
Save
Save
Save
Save
Save
Save
Save
Save
Save
Save
Save
Save
Save
Save
Save
Save
Save
Save
Save
Save
Save
Save
Save
Save
Save
Save
Save
Save
Save
Save
Save
Save
Save
Save
Save
Save
Save
Save
Save
Save
Save
Save
Save
Save
Save
Save
Save
Save
Save
Save
Save
Save
Save
Save
Save
Save
Save
Save
Save
Save
Save
Save
Save
Save
Save
Save
Save
Save
Save
Save
Save
Save
Save
Save
Save
Save
Save
Save
Save
Save
Save
Save
Save
Save
Save
Save
Save
Save
Save
Save
Save
Save
Save
Save
Save
Save
Save
Save
Save
Save
Save
Save
Save
Save
Save
Save
Save
Save
Save
Save
Save
Save
Save
Save
Save
Save
Save
Save
Save
Save
Save
Save
Save
Save
Save
Save
Save
Save
Save
Save
Save
Save
Save
Save
Save
Save
Save
Save
Save
Save
Save
Save