Enjoy Fresh Flavors at the Rancho Santa Fe Farmers Market
The Market Will Remain OPEN During COVID-19 as an Essential Business.
Come shop LOCAL and get your essential food needs in a safe space.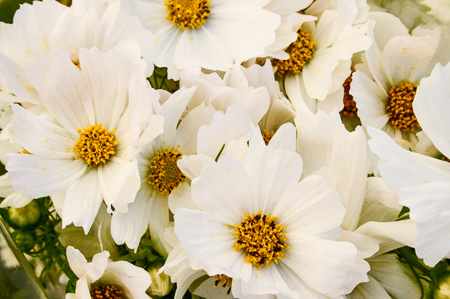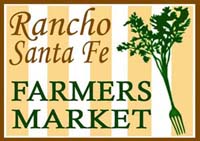 Dear Friends,
The Rancho Santa Fe Farmers Market is here for you during COVID-19. Farmers Markets have been deemed essential businesses that are crucial to community food security and food supply and we will remain OPEN. Every farmer, staff member, and producer at our Market is adhering to strict health and safety standards to ensure that the Market is providing safe and reliable access to nutritious foods that are vital to a healthy community!
Market Safety Measures:
Food sampling is suspended
Seating areas are eliminated – All food served to go
Additional space via wider market aisles and vendor spacing
Prominent signage to encourage social distancing
Frequent cleaning and disinfecting of market equipment
Strict adherence to state & county health code
Benefits of Shopping at the Farmers Market Right Now:
Fresh produce is rich with vitamins & nutrients essential to maintain a healthy immune system
Low risk, open air environment allows for adequate social spacing
Sunlight provides a powerful, natural disinfectant and exposure to vitamin D
Food directly traveling from the farm is handled at a much lower rate than in the commercial system
How You Can Help:
Come to market in good health ONLY
Wash hands often for at least 20 seconds/ refrain from touching your face
Vendors will package/bag your items for you. Minimize touch or touch

only

what you are buying
Regulate your own social spacing. Try new low-contact ways of greeting friends
Wash all produce before consumption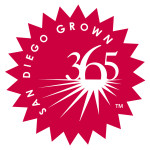 See you on Sunday,
Diane & Michael
619.743-4263
Diane@RanchoSantaFeFarmersMarket.com
www.RanchoSantaFeFarmersMarket.com
Located in the Del Rayo Village Shopping Center at 16079 San Dieguito Rd. Rancho Santa Fe, CA 92091
_____________________________________
Vendor Spotlights
Be sure to check out ALL our amazing fresh produce, fish, and meat vendors this week. They are here to support you during these times and would love your support in return!
Enjoy Seasonal, Delicious Cherries from Smit Farms!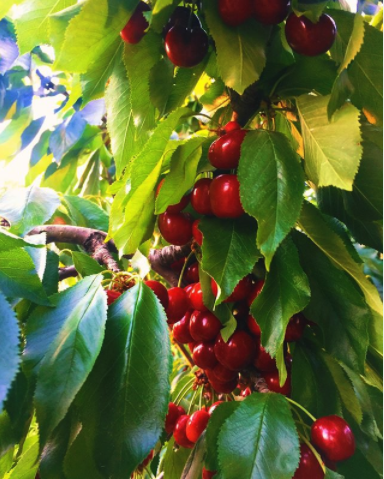 Cherries are officially back from Smit Farms! Stop by this Sunday to grab a bag of these delicious, plump, red cherries to make your taste buds dance with joy!
About Smit Farms:
Located in Linden, California, Smit Farms supplies many of this state's Certified Farmers' Markets with tree fruit that has been sustainably grown since 1969.
What is the secret to our great tasting produce? A rich history of cultivating in the heart of California farmland is behind it all. Over four decades of experience and a commitment to top quality ensures that you receive the best fruit an orchard can produce.
Smit Farms was established in 1969 by the Smit family and is located about 30 minutes east of Stockton, CA. After emigrating from the Netherlands to Northern California, meeting his bride, and establishing a dairy ranch, John Smit soon got wind of a new apple that would be conducive to grow in the region: the Fuji apple. They proceeded to transform the property from pasture lands to rows and rows of fruit trees. The Smit Family continued to add a wide variety of apples, table grapes, cherries, stone fruit, blueberries, pomegranates and kiwifruits to their orchards.
Smit Farms has been successful by focusing on growing high quality organic fruit. Going for quality over quantity has helped create a reliable brand of fruit that is always in demand. Smit Farms is still run by family and plans on continuing to do so. The Smits are committed to sustainable farming practices that will allow the soils and those tilling them to coexist in the most natural environment possible. Most of our orchards have been certified organic by the CCOF and registered with the California Department of Food and Agriculture (CDFA) as organic. Smit Farms can be found at many farmers' markets in various areas of California.
Stop by this Sunday to pick up some amazing and fresh fruit!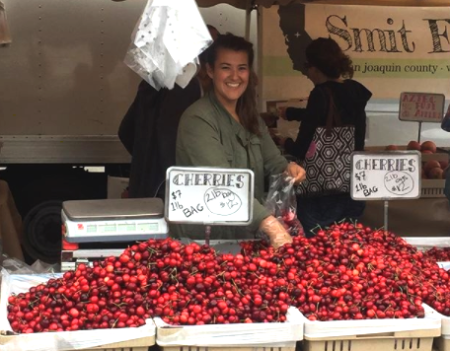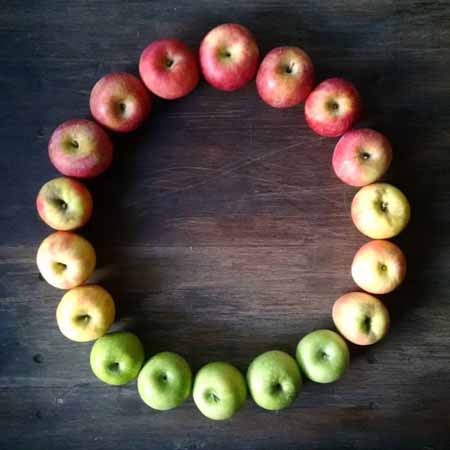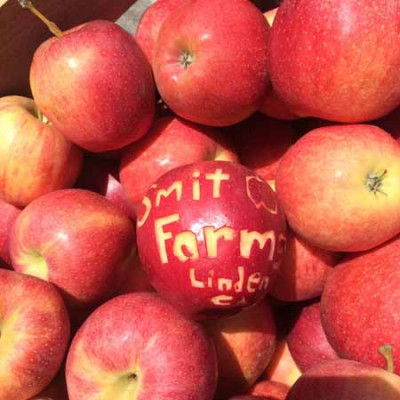 _________________________________
Congratulations to Our $25 "Like Us On Facebook" Winner!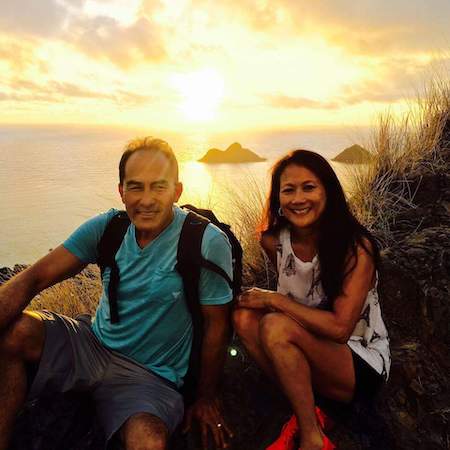 A big congratulations to Joseph Murray, our "Like Us On Facebook" winner this week. Please stop by the Manager's booth this Sunday and pick up your $25 in Market Bucks!
Rancho Santa Fe Farmers Market Gift Cards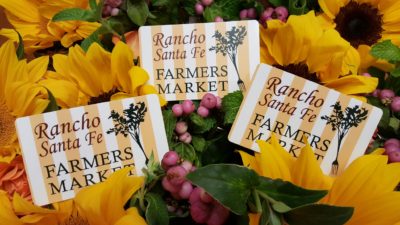 Don't forget to pick up a Rancho Santa Fe Farmers Market Gift Card while you're shopping! These gift cards make great Hostess Gifts, Holiday Gifts, and Thank You gifts for any time of the year and are especially perfect for the upcoming holidays. Gift cards can be purchased in any denomination and are available at the Market Information Booth.
Gorgeous Colors and Flavors at the Rancho Santa Fe Farmers Market!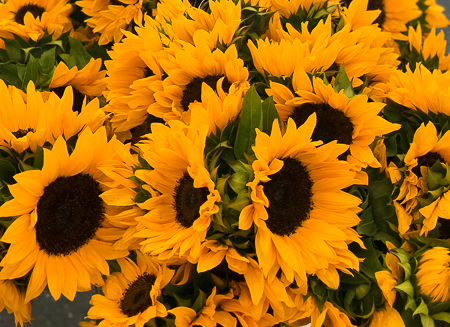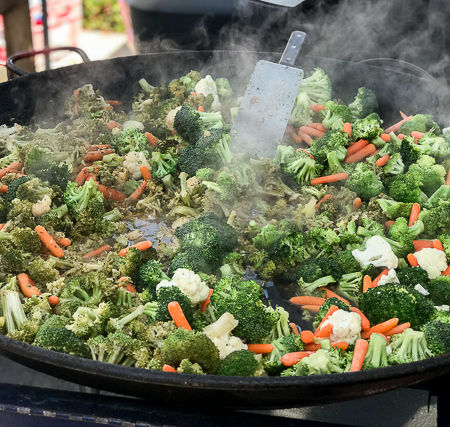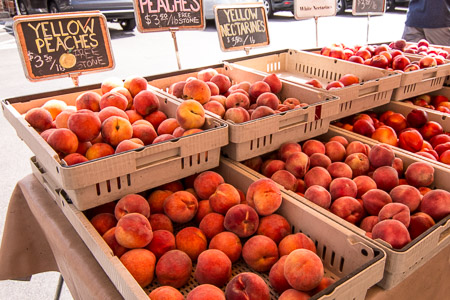 Helen Woodward Animal Center Pet Of The Week
Meet This Perfect Duo!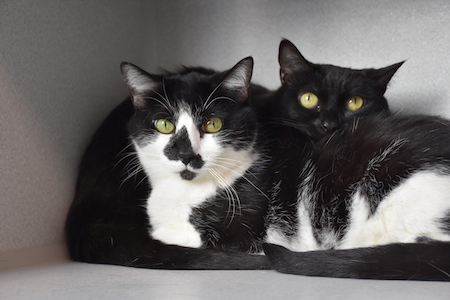 Juju and Esmerelda go together like peanut butter and jelly! These very sweet kitties love spending time together and are ready to keep enjoying each other's company in a new home and with a new family. With his unique black and white markings, Juju is the more adventurous of the pair. This outgoing two-year-old boy loves greeting new friends and snuggling up with his pal Esmerelda. Esmerelda is a laid back four-year-old girl who loves relaxing in her warm cozy bed and hanging out with Juju. One thing is for sure, this cute pair complement each other like a perfect Yin and Yang.
They are waiting to meet you at Helen Woodward Animal Center. Their adoption fee is $122. They have been altered and are up-to-date on all of their vaccinations.  As with all pets adopted from Helen Woodward Animal Center, they are micro-chipped for identification.
Helen Woodward Animal Center is located at 6523 Helen Woodward Way in Rancho Santa Fe. Kennels are open daily Monday through Friday 12 to 6 p.m.; Saturdays 10 a.m. to 6 p.m.; and Sunday 11 a.m. to 6 p.m. (last application accepted 15 minutes before closing). For more information call 858-756-4117, option #1 or visit animalcenter.org.
"Share Us" ON FACEBOOK AND ENTER TO WIN $25 IN MARKET BUCKS!
You could win $25 in RSF Market Bucks by simply clicking the links below and "Share Us"! Each time you "share" one of our posts it goes into a pool, so by liking ANY of our Facebook posts or joining our email list, you are getting another chance to win! The more posts you "Like" the more entries you will have in the drawing. A new winner will be chosen each month!
CLICK ON THE LINKS BELOW


#1 Join our email list by clicking here, or from one of our special signs at the Market. If you have already joined our list you will be automatically entered each and every week.


#2 Enter as many time as you want by clicking LIKE on our Facebook Page, LIKE on our Facebook Photos and LIKE on our Facebook Comments, every Facebook LIKE is a another entry!
Do you read online reviews? We do, and so do other customers. That's why we'd love it if you would take just a quick moment to review your experience at our Farmers Market.
Here are links for two great review sites:
THANK YOU, WE REALLY APPRECIATE IT!
Save
Save
Save
Save
Save
Save
Save
Save
Save
Save
Save
Save
Save
Save
Save
Save
Save
Save
Save
Save
Save
Save
Save
Save
Save
Save
Save
Save
Save
Save
Save
Save
Save
Save
Save
Save
Save
Save
Save
Save
Save
Save
Save
Save
Save
Save
Save
Save
Save
Save
Save
Save
Save
Save
Save
Save
Save
Save
Save
Save
Save
Save
Save
Save
Save
Save
Save
Save
Save
Save
Save
Save
Save
Save
SaveSve
Save
Save
Save
Save
Save
Save
Save
Save
Save
Save
Save
Save
Save
Save
Save
Save
Save
Save
Save
Save
Save
Save
Save
Save
Save
Save
Save
Save
Save
Save
Save
Save
Save
Save
Save
Save
Save
Save
Save
Save
Save
Save
Save
Save
Save
Save
Save
Save
Save
Save
Save
Save
Save
Save
Save
Save
Save
Save
Save
Save
Save
Save
Save
Save
Save
Save
Save
Save
Save
Save
Save
Save
Save
Save
Save
Save
Save
Save
Save
Save
Save
Save
Save
Save
Save
Save
Save
Save
Save
Save
Save
Save
Save
Save
Save
Save
Save
Save
Save
Save
Save
Save
Save
Save
Save
Save
Save
Save