Shop the Seasons at the Rancho Santa Fe Farmers Market
The Market Will Remain OPEN During COVID-19 as an Essential Business.
Come shop LOCAL and get your essential food needs in a safe space.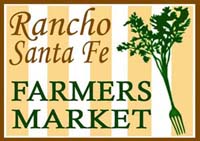 Dear Friends,
The Rancho Santa Fe Farmers Market is here for you during COVID-19. Farmers Markets have been deemed essential businesses that are crucial to community food security and food supply and we will remain OPEN. Every farmer, staff member, and producer at our Market is adhering to strict health and safety standards to ensure that the Market is providing safe and reliable access to nutritious foods that are vital to a healthy community!
Market Safety Measures:
Food sampling is suspended
Additional space via wider market aisles and vendor spacing
Prominent signage to encourage social distancing
Frequent cleaning and disinfecting of market equipment
Strict adherence to state & county health code
All Market attendees are required to wear A MASK
Benefits of Shopping at the Farmers Market Right Now:
Fresh produce is rich with vitamins & nutrients essential to maintain a healthy immune system
Low risk, open air environment allows for adequate social spacing
Sunlight provides a powerful, natural disinfectant and exposure to vitamin D
Food directly traveling from the farm is handled at a much lower rate than in the commercial system
How You Can Help:
Come to market in good health ONLY
Wash hands often for at least 20 seconds/ refrain from touching your face
Vendors will package/bag your items for you. Minimize touch or touch

only

what you are buying
Regulate your own social spacing. Try new low-contact ways of greeting friends
Wash all produce before consumption
Wear your mask – This is required by the Market for all attendees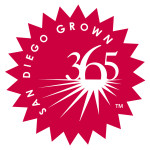 See you on Sunday,
Diane & Michael
619.743-4263
Diane@RanchoSantaFeFarmersMarket.com
www.RanchoSantaFeFarmersMarket.com
Located in the Del Rayo Village Shopping Center at 16079 San Dieguito Rd. Rancho Santa Fe, CA 92091
_____________________________________
Vendor Spotlights
Be sure to check out ALL our amazing fresh produce, fish, and meat vendors this week. They are here to support you during these times and would love your support in return!
Noble Fibre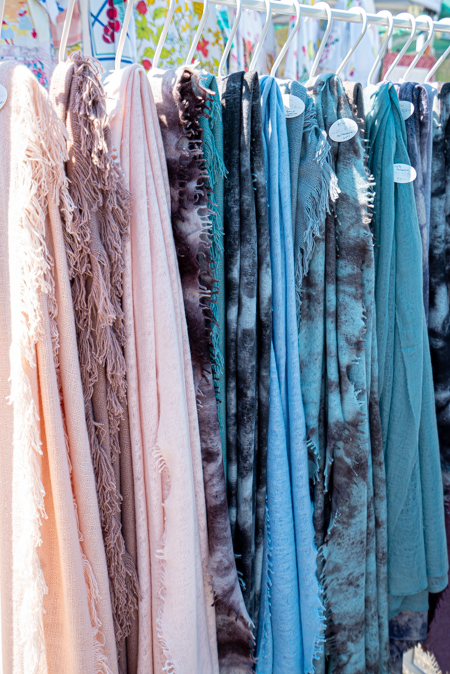 Noble Fibre works directly with artisans, nomads and locally owned businesses to design and create beautiful and authentic items for your home and life. Our collections feature the finest and most sustainable materials, including noble fibres (cashmere, silk, wool, linen and cotton) to ensure exceptional quality that will endure.
Noble Fibre also creates limited collections of pillows, textiles, and accessories made with rare, vintage, upcycled textiles and one-of-a-kind brocade and velvet coats. We partner with brands designed by local artisans including Mia Peru and Bhundu. Our main collection, including elevated basics, are designed in collaboration with partners and friends who inspire us and by Monica Garry in SoCal, Paris, Jaipur and Kathmandu.
Noble Fibre is a brand with a mission. Our lines include Fibre Tibet, Pondichery Marche and our main line – Noble Fibre Artisan Marche. We donate a portion of our proceeds to support ocean protection, women and children, education, animal welfare and the communities where we work. Our team and universe includes artisans, nomads, entrepreneurs, designers, social impact investors, surfers, environmentalists, writers, designers, bankers, entrepreneurs, artists, gelato makers, bakers, chefs, gardners, dog lovers, equestrians, cat people, dreamers, non profit do gooders, activists, educators, music makers, diplomats, divers, yogis, artists, meditation teachers, delivery heroes, pilots, dog walkers, vets, healers, shamans,  philanthropists, retired and current rock stars, actors, professors, horse trainers, falconers, cyclists, film makers, mountain climbers and photographers.
Our collections also include rare heritage and one of a kind pieces made by artisans using their traditional skills and designs and collaborations that feature contemporary styles.  Noble Fibre has one-of-a-kind upcycled cashmere scarves and shawls made from the left over yarn that are exquisite and completely sustainable.
Invest in fewer, finer and fair – Stop by Noble Fibre this Sunday!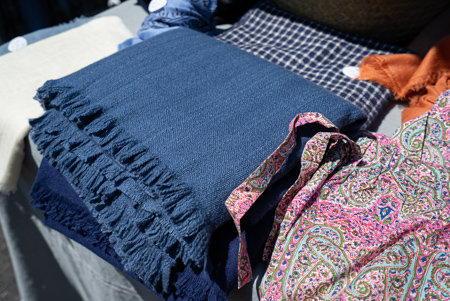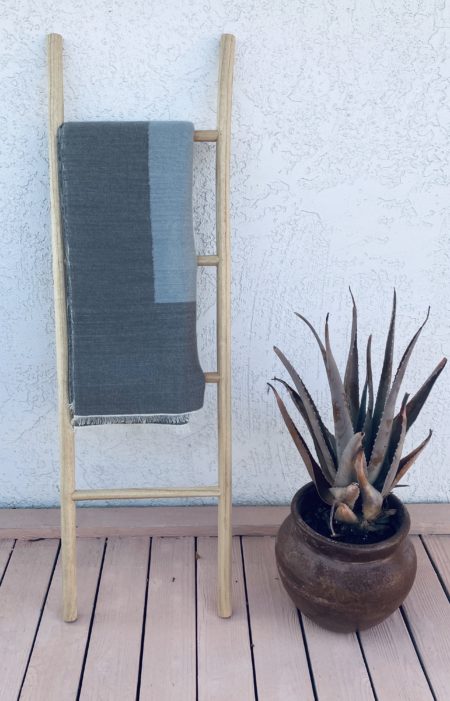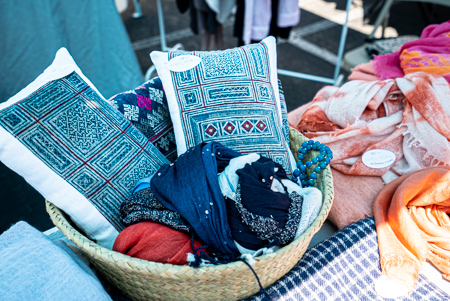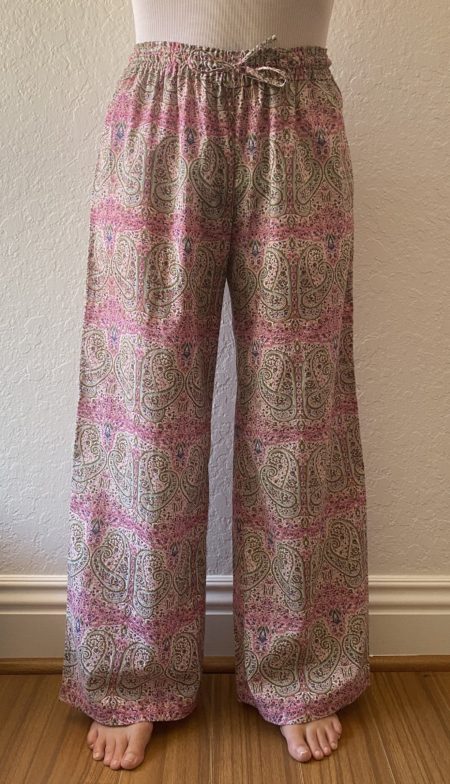 _________________________________
Congratulations to Our $25 "Like Us On Facebook" Winner!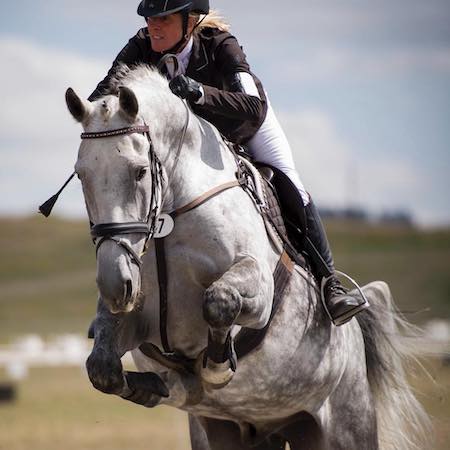 A big congratulations to Elaine Colvin, our "Like Us On Facebook" winner this week. Please stop by the Manager's booth this Sunday and pick up your $25 in Market Bucks!
Gorgeous Colors and Flavors at the Rancho Santa Fe Farmers Market!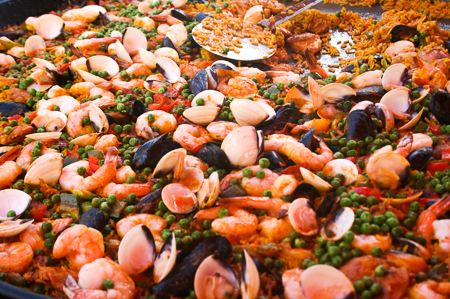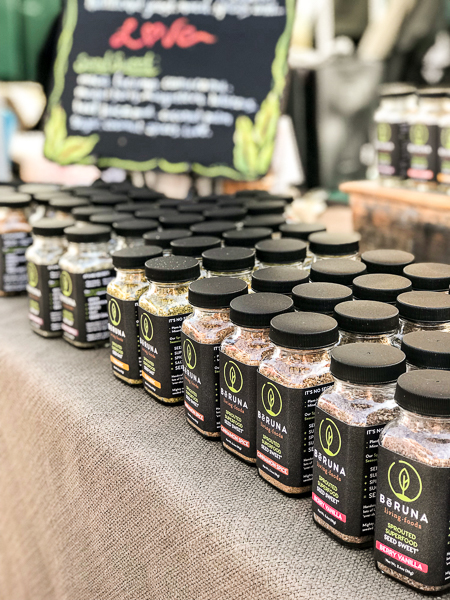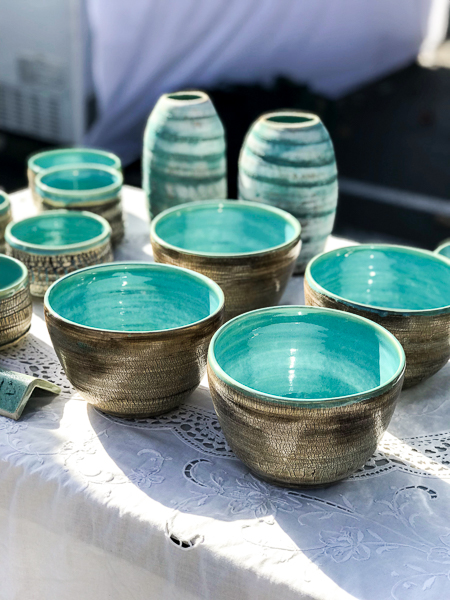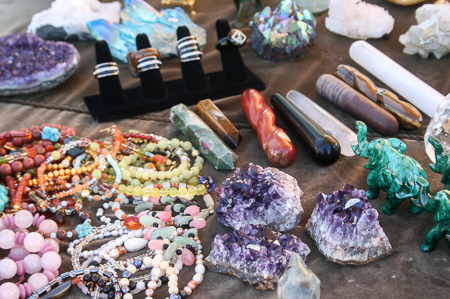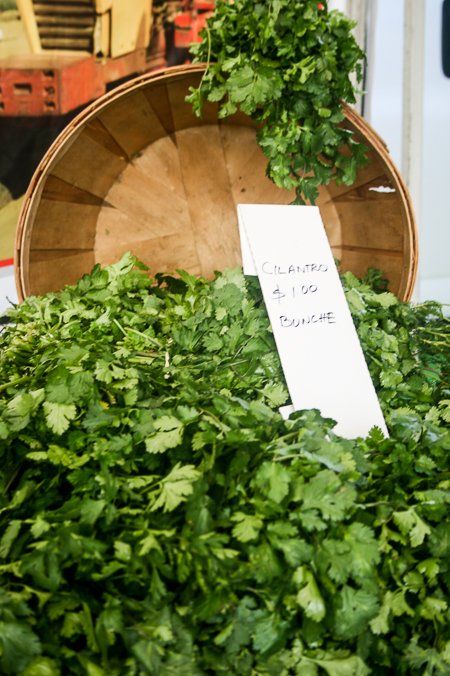 Helen Woodward Animal Center Pet Of The Week
Jaeda the Jewel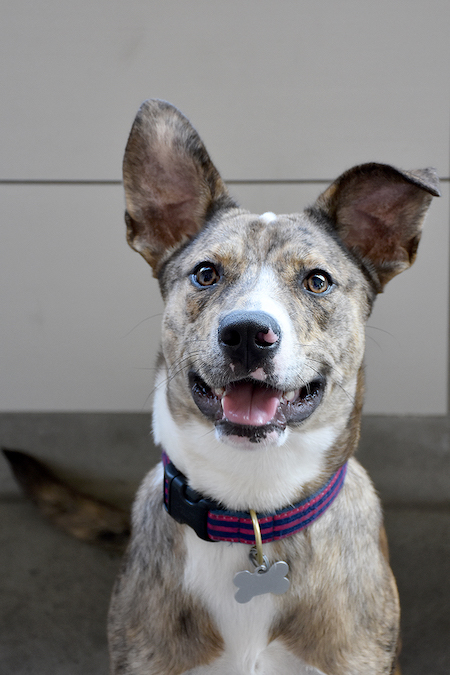 Jaeda sparkles and shines and is sure to bring endless value to her new family's lives. This incredibly sweet brindle girl is 13 months old and a real treasure to be around. Jaeda is a Catahoula Leopard Dog blend who loves her toys, making new friends and having fun! Despite her playful energy, she loves relaxing in good company and receiving plenty of belly rubs.
Jaeda is waiting to meet you at Helen Woodward Animal Center. Her adoption fee is $375. She has been altered and is up-to-date on all of her vaccinations.  As with all pets adopted from Helen Woodward Animal Center, she is micro-chipped for identification.
Helen Woodward Animal Center is located at 6523 Helen Woodward Way in Rancho Santa Fe. Kennels are open daily Monday through Friday 12 to 6 p.m.; Saturdays 10 a.m. to 6 p.m.; and Sunday 11 a.m. to 6 p.m. (last application accepted 15 minutes before closing). For more information call 858-756-4117, option #1 or visit animalcenter.org.
"Share Us" ON FACEBOOK AND ENTER TO WIN $25 IN MARKET BUCKS!
You could win $25 in RSF Market Bucks by simply clicking the links below and "Share Us"! Each time you "share" one of our posts it goes into a pool, so by liking ANY of our Facebook posts or joining our email list, you are getting another chance to win! The more posts you "Like" the more entries you will have in the drawing. A new winner will be chosen each month!
CLICK ON THE LINKS BELOW


#1 Join our email list by clicking here, or from one of our special signs at the Market. If you have already joined our list you will be automatically entered each and every week.


#2 Enter as many time as you want by clicking LIKE on our Facebook Page, LIKE on our Facebook Photos and LIKE on our Facebook Comments, every Facebook LIKE is a another entry!
Do you read online reviews? We do, and so do other customers. That's why we'd love it if you would take just a quick moment to review your experience at our Farmers Market.
Here are links for two great review sites:
THANK YOU, WE REALLY APPRECIATE IT!
Save
Save
Save
Save
Save
Save
Save
Save
Save
Save
Save
Save
Save
Save
Save
Save
Save
Save
Save
Save
Save
Save
Save
Save
Save
Save
Save
Save
Save
Save
Save
Save
Save
Save
Save
Save
Save
Save
Save
Save
Save
Save
Save
Save
Save
Save
Save
Save
Save
Save
Save
Save
Save
Save
Save
Save
Save
Save
Save
Save
Save
Save
Save
Save
Save
Save
Save
Save
Save
Save
Save
Save
Save
Save
SaveSve
Save
Save
Save
Save
Save
Save
Save
Save
Save
Save
Save
Save
Save
Save
Save
Save
Save
Save
Save
Save
Save
Save
Save
Save
Save
Save
Save
Save
Save
Save
Save
Save
Save
Save
Save
Save
Save
Save
Save
Save
Save
Save
Save
Save
Save
Save
Save
Save
Save
Save
Save
Save
Save
Save
Save
Save
Save
Save
Save
Save
Save
Save
Save
Save
Save
Save
Save
Save
Save
Save
Save
Save
Save
Save
Save
Save
Save
Save
Save
Save
Save
Save
Save
Save
Save
Save
Save
Save
Save
Save
Save
Save
Save
Save
Save
Save
Save
Save
Save
Save
Save
Save
Save
Save
Save
Save
Save
Save