Helen Woodward Animal Center Celebrated 4th Annual Doggie Gras in Collaboration with the Rancho Santa Fe Farmers Market!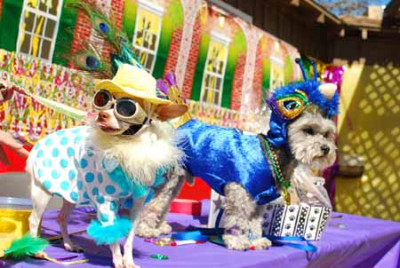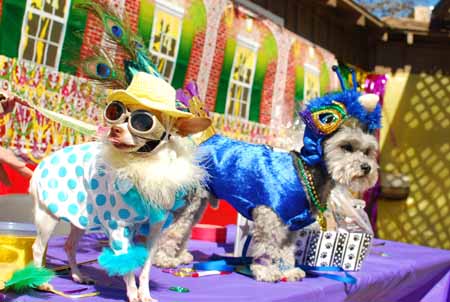 The ORIGINAL Orphan Pet-Focused Fete is back and FREE to the public with a Doggie Gras Parade worth barking about – see a video of the festivities here:
http://mms.tveyes.com/PlaybackPortal.aspx?SavedEditID=eb3a8aee-afc9-407c-b894-225b1b277820
BON TEMPS ROULER – LET THE GOOD DOGS PLAY!
Rancho Santa Fe Farmer's Market Hosts Helen Woodward Animal Center's "Paw-thentic" Doggie Gras Parade!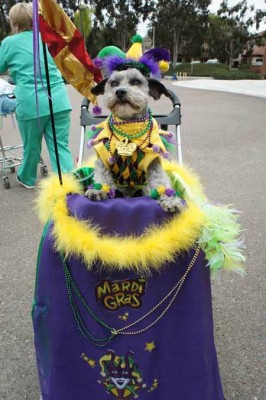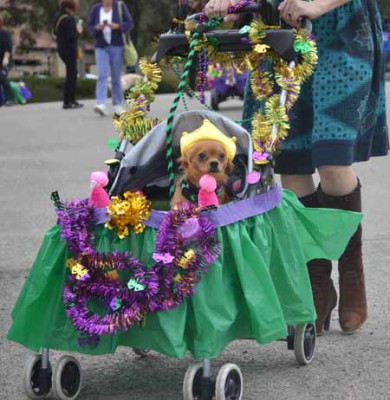 Strike up the Zydeco… Helen Woodward Animal Center is marching its most colorful celebration to a beautiful new location!  The first weekend in February, the fourth annual Doggie Gras Parade is stretching its furry legs at the Rancho Santa Fe Farmer's Market. The fun event shines a light on Center orphan pets by inviting participants to join a parade supporting animal rescue and Mardi Gras traditions on imaginary "BourBONE Street" down in "CATon Rouge." Don't miss the kickoff to all other Mardi Gras festivities on Sunday, February 7th from 11:00 a.m. to 1:00 p.m. at the Rancho Santa Fe Farmer's Market in the Del Rayo Village Shopping Center in Rancho Santa Fe.
Helen Woodward Animal Center's Doggie Gras Parade has become a favorite tradition for Center staff, orphan pets, local friends and doggie alumni each year.  The decision to shift this year's event to the Farmer's Market was made to allow more animal-lovers and rescue-supporters an opportunity to partake in the fun.  The Rancho Santa Fe Farmer's Market has been a long-time supporter of the Center.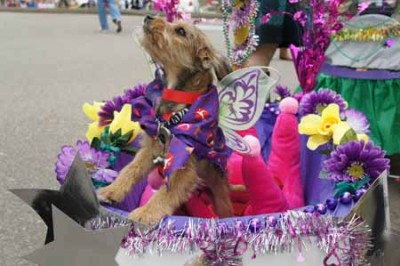 "We feel very honored to have the support of the Covello Family, who own the Del Rayo Village Shopping Center, and the support of Diane Haworth and Michael Varbaek who own and operate the Rancho Santa Fe Farmer's Market," stated Helen Woodward Animal Center Vice President of Development Renee Resko.  "The Market has always been a special part of this community and these individuals have made sure our orphan pets are top-of-mind by including them in weekly newsletters, offering us booth space and making Center donations.  We're excited about partnering on this upcoming event."
The Doggie Gras festivities will includes a variety of activities for all Mardi Gras-lovers and animal-lovers.  Purple, green and gold will bedeck and bejewel the event, where attendees will nosh on BARK-King Cake, take pictures against New Orleans style-backgrounds, make Doggie Gras themed masks, participate in a vendor treasure hunt and watch or take part in the lively Doggie Gras Parade featuring orphan and adopted pooches in Mardi Gras themed costumes.  Attendees are encouraged to take part in the parade by decorating pet strollers or wagons for their own furry friends.  Following the parade, judges will select a "Best 2016 Doggie Gras Float" with a special gift awarded to the winner!  Those who would like to be judged in the contest are asked to make a $10 donation to the pets and programs at Helen Woodward Animal Center.
Helen Woodward Animal Center's Fourth Annual Doggie Gras Parade is FREE to the public.  To attend, or for more information, go to http://www.animalcenter.org/events/doggiegras/, call Helen Woodward Animal Center: (858) 756-4117 x 379 or contact Assistant PR & Communications Manager Mindy Wright at MindyW@animalcenter.org
For more information call 858-756-4117858-756-4117, option #1 or visit