The New Rancho Santa Fe Farmers Market Helps You Live A Longer Healthy Life!
The Spotlight this week is on the New Owners and Operators of the Rancho Santa Fe Farmers Market. This past January the Rancho Santa Fe Farmers Market underwent a transition of ownership and we thought you would like to get to know just who the new owners are and why a farmers market?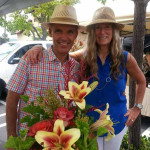 Longevity researchers, motivational speakers, world class athletes, and documentary film makers, Diane Haworth and Michael Varbaek have spent much of their lives in pursuit of outstanding health and wellness and are dedicated to sharing their knowledge. They spent the past four years traveling to and staying in "longevity villages" around the world where they studied and documented the lifestyle and habits of the long living people.
They focused on the villages with the highest concentration of centenarians and super centenarians who are living long and healthy lives, virtually free of our Western Culture diseases.
It is this knowledge, and those habits which they are incorporating in a very special "new" market nestled in the Del Rayo Village in Rancho Santa Fe every Sunday morning from 9:30am to 2:00pm, and now we can learn from them how to add years to our own lives. Google Map
When asked why they chose the Rancho Santa Fe Farmers Market, Diane stated "In the longevity research we did, a common theme appeared regardless of the diet, climate, culture or ethnicity, of the people we studied which we believed to be instrumental in living a longer, healthy life. It is what we call the 'town square concept', or central meeting spot in all of these communities which we believe contributes greatly to their physical, mental and spiritual health and wellbeing. It is equally as important as diet and exercise, but sadly it is most often overlooked.
In creating a farmers market where people can get to know their farmers, the very people who grow the food you nourish your body with, and get to know the food vendors who so lovingly prepare their products each week. Where a person can get to know the owners of their market, and the other shoppers, their neighbors, and perhaps they in turn get to know them just a little as well. Our goal is to provide the community with some of the tools necessary to add years to their lives.
While at the Rancho Santa Fe Farmers Market, you can relax listening to live local artists each week, outdoors, in the sunshine and fresh air, surrounded by a beautiful bounty of fresh produce and fresh flowers, you can smell the aroma of lovingly prepared meals made fresh for you while you talk with the chef preparing it. Even if you decide to take some of the prepared meals home and eat them later you are transported back to that "sense of community" even if eating alone that night.
You can watch the children playing in the Market Kids & Crafts Booth weekly, enjoy our Guest Chef Series, listen to one of our Speakers, or enjoy many of the Longevity Programs we will be featuring throughout the year.
We have worked to create an environment in the market more like a European Farmers Market, where people don't just rush in with a list in their hands, but rather they come for the experience of the market itself. It is a weekly gathering place to nourish not only your body but your soul.
Our newsletter features a new longevity recipe each week from their cookbook spotlighting what is in season, using fresh ingredients from the market. The recipes can be found on the website www.RanchoSantaFeFarmersMarket.com under the Fresh News tab. You can also sign up for the weekly Rancho Santa Fe Fresh News on the website or at the managers booth so you never miss one of the recipes, and you will also receive updates on events at the market, weekly specials, vendor spotlights, musicians and longevity tips you can begin implementing today. So start to create a new weekly habit every Sunday at the Rancho Santa Fe Farmers Market, one of the premier farmers markets in San Diego… it just might help you to live a longer, healthier life!
Diane Haworth

An internationally recognized athlete, motivational speaker, former newspaper columnist, and a sport specific strength trainer who also worked with the Navy SEALs, Diane has been an inspiration to many throughout the years as an authority on fitness and nutrition, she has touched the lives of thousands, encouraging all towards new levels of health, fitness, and well-being. She has been a spokesperson for the Vita-Mix Corporation for the past eleven years traveling throughout the United States, Europe, and Asia. She is certified in Plant Based Nutrition, and Rawfood Nutrition and is a Certified Culinary Arts Chef & Chef Instructor. Diane has competed in Eco-Challenge – The World's Toughest Race, USA Supreme 10-day Adventure Race, and was on numerous first place mountain bike racing teams over the years. As a cyclist, Diane placed in the top five in both the California State Games, and the World Road Master's Championships in Austria. In her youth she competed as a world class figure skater. In her 50's she is still a competitive athlete.
Michael Varbaek
Michael Varbaek also in his 50's grew up in Copenhagen, Denmark. He became a world-class cyclist, racing for the Danish National Team. Later he moved to the US where he became Captain of Team Spago/Finlandia, sponsored by Wolfgang Puck. He still races as a sponsored cyclist at the Pro level, and believes in staying fit and healthy through exercise and diet. He is also Certified in Plant Food Nutrition and Raw Food Nutrition and is a Culinary Arts Chef Instructor. Michael helps others stay healthy both here in the United States as well as abroad, where he speaks on nutrition and longevity with his partner Diane Haworth, co-owner of A Longer Healthy Life, a business dedicated to giving people tools and knowledge to achieve optimum health and longevity.