Enjoy Fresh Flavors at the Rancho Santa Fe Farmers Market!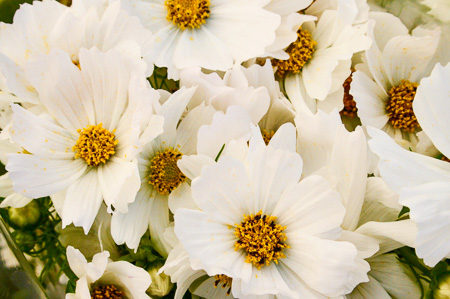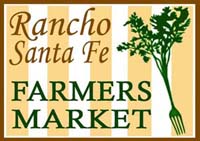 Dear Friends,
It's going to be an absolutely amazing Sunday at the Rancho Santa Fe Farmers Market! We can't wait to spend the day with you. As you stroll the market and pick up your favorite fresh produce, be sure to stop by Purple Rain Lavender to browse their incredible products that harness the plethora of benefits from lavender – All their products are handmade from their farm in Fallbrook. See you there!
Remember, to bring an ice chest in your car or on wheels so you can relax and enjoy a nice lunch made fresh for you right at the market. Take a few minutes to slow down and enjoy the day with your family and friends in the comfort of new Market umbrellas, bistro tables and cafe chairs!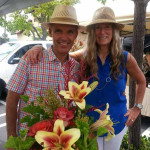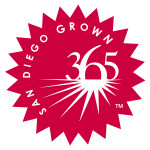 See you on Sunday,
Diane & Michael
619.743-4263
[email protected]
www.RanchoSantaFeFarmersMarket.com
Located in the Del Rayo Village Shopping Center at 16079 San Dieguito Rd. Rancho Santa Fe, CA 92091
_____________________________________
Vendor Spotlights
Purple Rain Lavender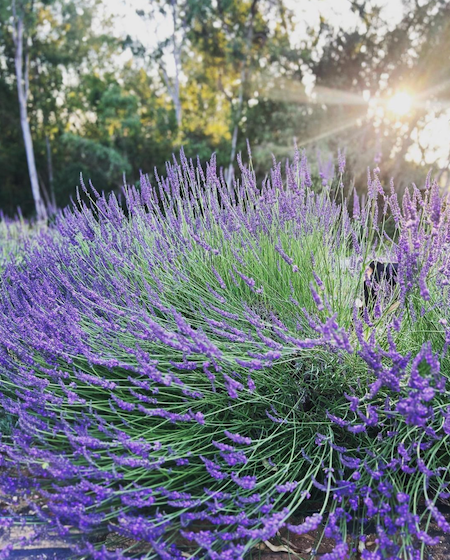 Purple Rain Lavender is a family-owned lavender farm nestled in the picturesque town of Fallbrook, CA, in North County San Diego. Since its establishment in 2013, Purple Rain Lavender has dedicated its land to cultivating the finest lavender and harnessing its numerous health benefits for the body and mind.
Some of our lavender products include:
Body Scrubs
Body Butter
Bath Salts
Beard Oil
Tea
Essential Oil
Satchets
Salves
CBD Hemp Products
….And more!
Our products offer a wide range of benefits from lavender, including serving as antiseptics, anti-inflammatory agents, and antidepressants. They possess anti-fungal and antimicrobial properties, promote relaxation through sedative effects, and contribute to aromatherapy practices. From aiding in the treatment of skin conditions like burns, eczema, and acne to alleviating stress, achy muscles, and joint pain, lavender has proven to be a versatile ally in your health and wellness. Additionally, it offers benefits such as insect repellency, aiding digestion, stimulating blood circulation, and even promoting hormonal balance.
At Purple Rain Lavender, we believe in the power of natural remedies and strive to create high-quality products. Every item is meticulously crafted by hand, using 100% natural organic ingredients, ensuring our customers receive the best quality possible. We are grateful for the opportunity to utilize our land to provide a product with countless health benefits, and we invite you to enjoy our offerings and visit us this Sunday at the Market!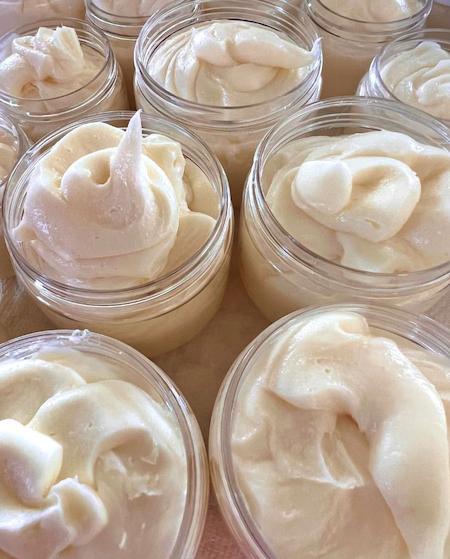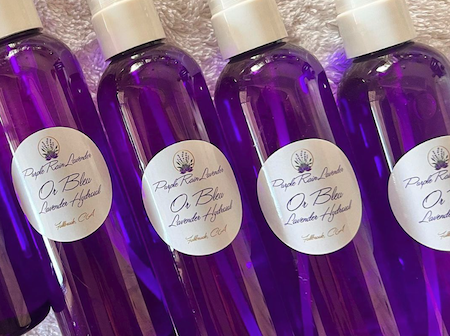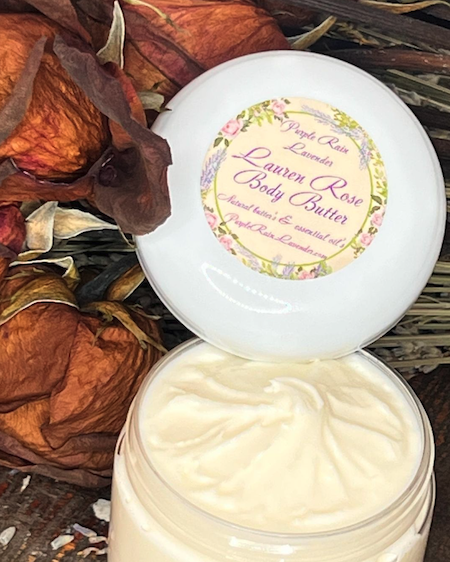 _________________________________
Congratulations to Our $25 "Like Us on Social Media" Winner!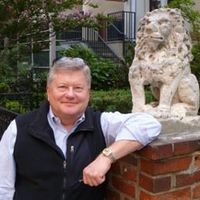 A big congratulations to Bob Tuider, our "Like Us on Social Media" winner this week. Please stop by the Manager's booth this Sunday and pick up your $25 in Market Bucks!
Gorgeous Colors and Flavors at the Rancho Santa Fe Farmers Market!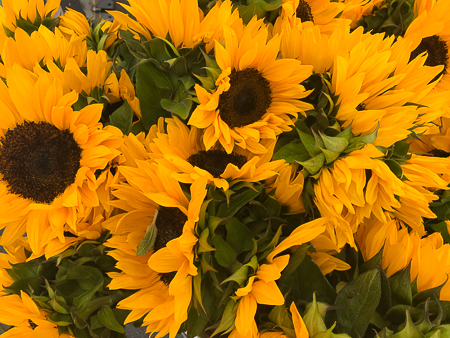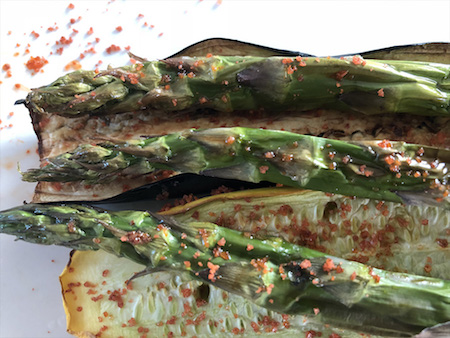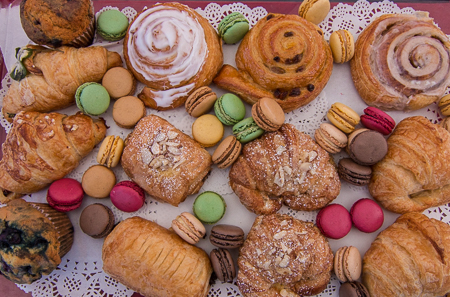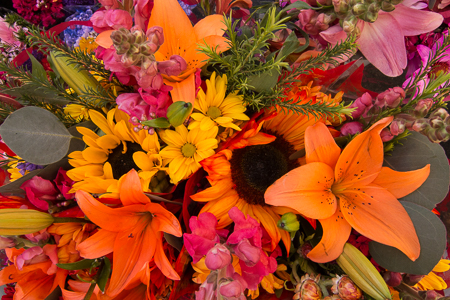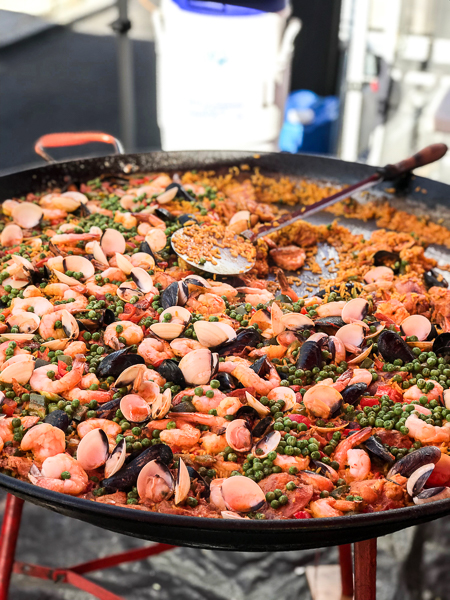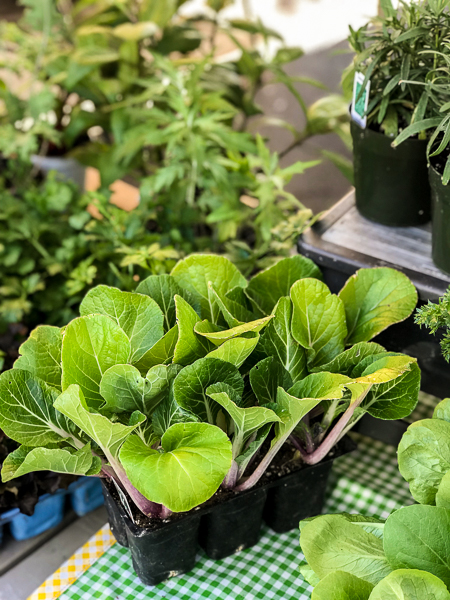 Helen Woodward Animal Center Pet Of The Week
Starry Will Have You Over the Moon!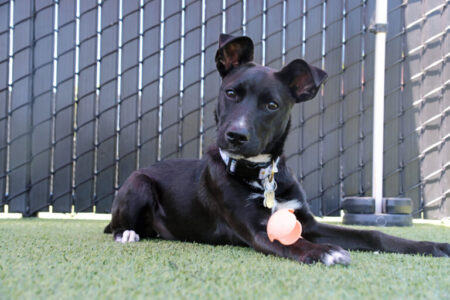 A cosmic canine has landed at Helen Woodward Animal Center! Starry, the 5-month-old Border Collie blend, made her planetfall late last week and is looking to find her forever home world. This 23-pound perky pooch radiates more playful energy than the brightest pulsar. She loves to launch rope toys into the stratosphere and chase tennis ball-shaped comets across grassy planets. Starry isn't just a solar spark, however. When she's exhausted the fuel from her rockets, she's more than happy to settle into orbit on your lap and snooze into the sunset. While Starry can find any planet habitable, she'd much prefer a home with lots of space to run around in and with older inhabitants she can share her space with. Bonus points if her future home world has an alien commander present to keep her entertained with missions throughout the day.
She is waiting to meet you at Helen Woodward Animal Center. She's been altered and is up-to-date on all of her vaccinations. She is microchipped for identification as with all pets adopted from Helen Woodward Animal Center.
Helen Woodward Animal Center is located at 6461 El Apajo Road in Rancho Santa Fe. Kennels are open Monday through Friday from 12 p.m. to 6 p.m. and weekends from 10 a.m. to 6 p.m. For more information call 858-756-4117, option #1.
"Share Us" ON FACEBOOK AND ENTER TO WIN $25 IN MARKET BUCKS!
You could win $25 in RSF Market Bucks by simply clicking the links below and "Share Us"! Each time you "share" one of our posts it goes into a pool, so by liking ANY of our Facebook posts or joining our email list, you are getting another chance to win! The more posts you "Like" the more entries you will have in the drawing. A new winner will be chosen each month!
CLICK ON THE LINKS BELOW


#1 Join our email list by clicking here, or from one of our special signs at the Market. If you have already joined our list you will be automatically entered each and every week.


#2 Enter as many time as you want by clicking LIKE on our Facebook Page, LIKE on our Facebook Photos and LIKE on our Facebook Comments, every Facebook LIKE is a another entry!
Do you read online reviews? We do, and so do other customers. That's why we'd love it if you would take just a quick moment to review your experience at our Farmers Market.
Here are links for two great review sites:
THANK YOU, WE REALLY APPRECIATE IT!
Save
Save
Save
Save
Save
Save
Save
Save
Save
Save
Save
Save
Save
Save
Save
Save
Save
Save
Save
Save
Save
Save
Save
Save
Save
Save
Save
Save
Save
Save
Save
Save
Save
Save
Save
Save
Save
Save
Save
Save
Save
Save
Save
Save
Save
Save
Save
Save
Save
Save
Save
Save
Save
Save
Save
Save
Save
Save
Save
Save
Save
Save
Save
Save
Save
Save
Save
Save
Save
Save
Save
Save
Save
Save
SaveSve
Save
Save
Save
Save
Save
Save
Save
Save
Save
Save
Save
Save
Save
Save
Save
Save
Save
Save
Save
Save
Save
Save
Save
Save
Save
Save
Save
Save
Save
Save
Save
Save
Save
Save
Save
Save
Save
Save
Save
Save
Save
Save
Save
Save
Save
Save
Save
Save
Save
Save
Save
Save
Save
Save
Save
Save
Save
Save
Save
Save
Save
Save
Save
Save
Save
Save
Save
Save
Save
Save
Save
Save
Save
Save
Save
Save
Save
Save
Save
Save
Save
Save
Save
Save
Save
Save
Save
Save
Save
Save
Save
Save
Save
Save
Save
Save
Save
Save
Save
Save
Save
Save
Save
Save
Save
Save
Save
Save