Shop the Seasons at the Rancho Santa Fe Farmers Market!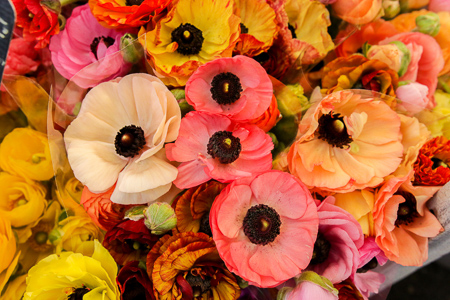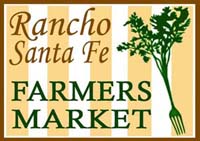 Dear Friends,
Enjoy a beautiful day with us at the Rancho Santa Fe Farmers Market this Sunday. The atmosphere will be gorgeous, the birds will be chirping, fresh meals will be served, and there will be an abundance of fresh produce and handcrafted goods to explore. This Sunday, be sure to check out our vendor of the week, Pangea Tea, for an amazing cup of hot or iced tea to quench your thirst! We can't wait to spend the day with you.
Remember, to bring an ice chest in your car or on wheels so you can relax and enjoy a nice lunch made fresh for you right at the market. Take a few minutes to slow down and enjoy the day with your family and friends in the comfort of new Market umbrellas, bistro tables and cafe chairs!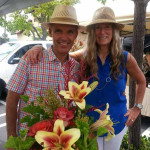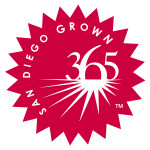 See you on Sunday,
Diane & Michael
619.743-4263
[email protected]
www.RanchoSantaFeFarmersMarket.com
Located in the Del Rayo Village Shopping Center at 16079 San Dieguito Rd. Rancho Santa Fe, CA 92091
_____________________________________
Vendor Spotlights
Pangea Tea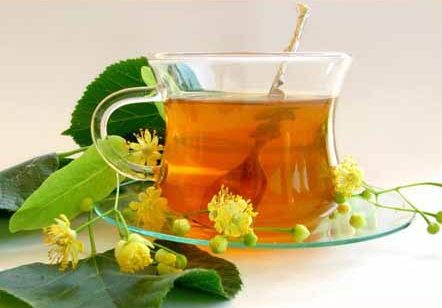 Pangea Tea Company's vision was born in 2005 when the owners were employed in Corporate America leading a nationwide Diversity Project for a Fortune 500 Company. During months of research and studying "employee" needs, they realized all people really want is a peaceful place to go where they feel welcome. Around the world, people find peace and health in tea houses. DiversiTEA created Pangea Tea Company. We want to bring that feeling to you.
Our teas are paleo, gluten free, sustainable, free range, sugar free, and 0 calories. They also fight cancer, cavities, weight gain and bad breath! Now all of our favorite teas are at your fingertips! Read about our proprietary blends and seasonal promotional teas below!
Beach Blendz: There is something about bodies of water and the effect they have on our soul. Here at Pangea Tea Company, we honor the water by making Beach Blendz. Give these Beach Blendz a try… We are confident you'll love them and with every sip, you'll imagine your favorite ocean getaway. Our Beach Blendz blends donate $1.00 for every tin sold to Surfrider.
be.yoU.TEA.ful blends: You were born beautiful. Your mother told you so, your best friend did too and deep down inside you know it's true. Let's break down this incredible tea line. "be.", "yoU." means exactly that – Be yourself. "TEA.", "ful" means exactly that too – Be full of your own gifts and healthy options like our tea. Our be.yoU.TEA.ful blends donates $1.00 for every tin sold to Laura's House, which is a local woman & family program.
Tea Budz: Experience Imagination! You are a tea leaf on an incredible adventure from tea bush to tin. With the help of some awesome kids, we created Pan the animated Tea Leaf. We liked him so much we registered a trademark on him to be our own version of "Peter". He has his own "Tink" too… Her name is Gia. Every month you'll see the journey they went on, all the remarkable people they met, the animals they played with and the tea they drank. In a world of high fructose corn syrup and carbonation, we want to get back to the roots. Tea, rooibos and mate grows from Earth but we haven't been able to find a high fructose corn syrup bush anywhere. Here at Pangea Tea Company, we honor youth (and the adult's inner child) by making this blend. We aim to deliver a sweet treat – Not too hot or too cold, not too bland or too sweet. This cup of tea is just right. Our Tea Budz blends donate $1.00 for every tin sold to Olive Crest, which is a local youth program.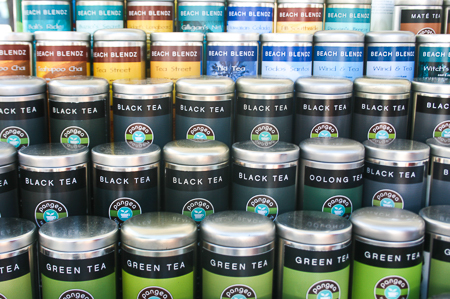 _________________________________
Congratulations to Our $25 "Like Us on Social Media" Winner!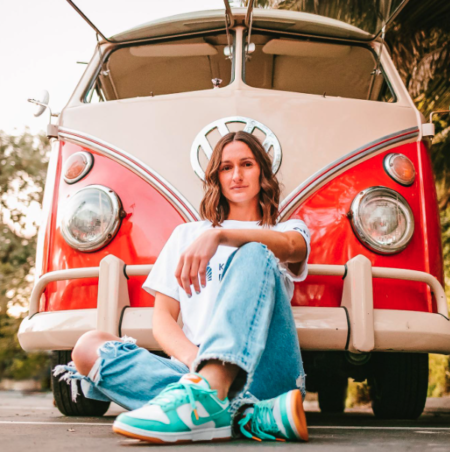 A big congratulations to Kaleigh Riehl, our "Like Us on Social Media" winner this week. Please stop by the Manager's booth this Sunday and pick up your $25 in Market Bucks!
Gorgeous Colors and Flavors at the Rancho Santa Fe Farmers Market!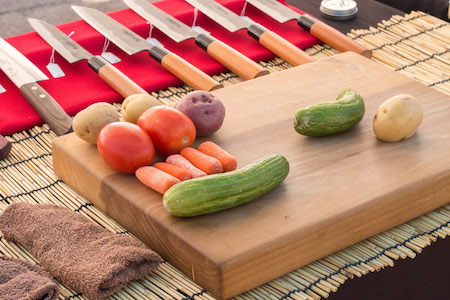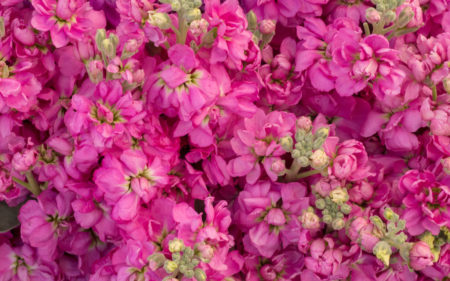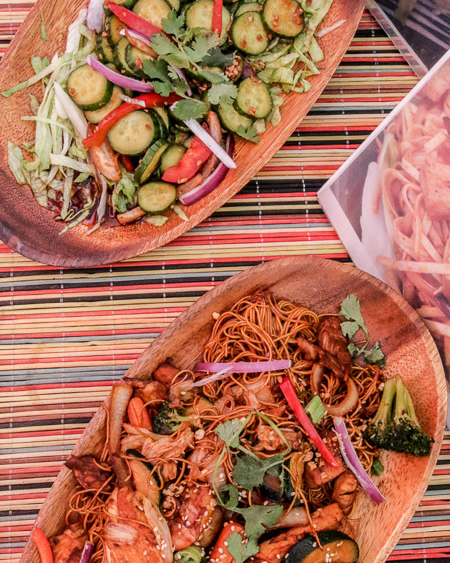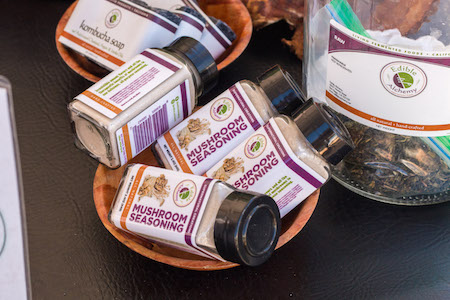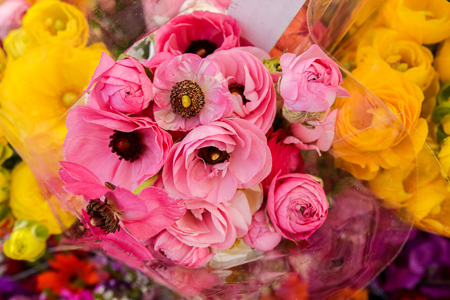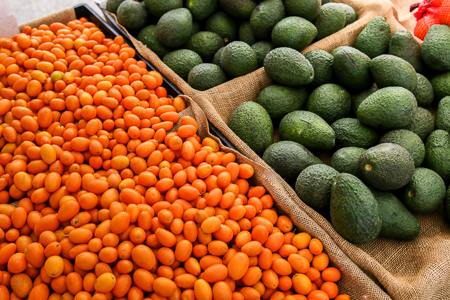 Helen Woodward Animal Center Pet Of The Week
Nobody's Sweeter Than Pineapple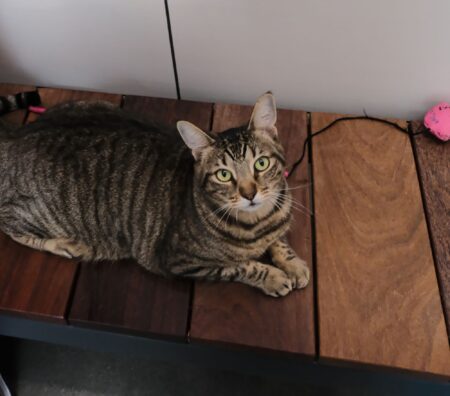 Some people say pineapple belongs on pizza, but THIS Pineapple belongs in your lap! Pineapple is a 4-year-old domestic short haired ball of fuzzy purrfection made up of everything a cat lover could ever want. She loves attention and has no problem marching right up to you and rubbing her face all over you until she gets it. This kitty loves long pets from her head to her tail and scritches under her chin. And she has no problem letting you know she's loving your affection with her incredibly loud purrs. Pineapple also loves to play with a variety of toys, favoring fake mice and wand and feathers over scratching posts.  She can easily thrive in any household environment, but like most cats would prefer a home with either just adults or older children who know how to be respectful towards her.
Pineapple is waiting to meet you at Helen Woodward Animal Center. Her adoption fee is $130. She has been altered and is up-to-date on all of her vaccinations. She is microchipped for identification as with all pets adopted from Helen Woodward Animal Center.
Helen Woodward Animal Center is located at 6461 El Apajo Road in Rancho Santa Fe. Kennels are open Monday through Friday from 12 p.m. to 6 p.m. and weekends from 10 a.m. to 6 p.m. For more information call 858-756-4117, option #1.
"Share Us" ON FACEBOOK AND ENTER TO WIN $25 IN MARKET BUCKS!
You could win $25 in RSF Market Bucks by simply clicking the links below and "Share Us"! Each time you "share" one of our posts it goes into a pool, so by liking ANY of our Facebook posts or joining our email list, you are getting another chance to win! The more posts you "Like" the more entries you will have in the drawing. A new winner will be chosen each month!
CLICK ON THE LINKS BELOW


#1 Join our email list by clicking here, or from one of our special signs at the Market. If you have already joined our list you will be automatically entered each and every week.


#2 Enter as many time as you want by clicking LIKE on our Facebook Page, LIKE on our Facebook Photos and LIKE on our Facebook Comments, every Facebook LIKE is a another entry!
Do you read online reviews? We do, and so do other customers. That's why we'd love it if you would take just a quick moment to review your experience at our Farmers Market.
Here are links for two great review sites:
THANK YOU, WE REALLY APPRECIATE IT!
Save
Save
Save
Save
Save
Save
Save
Save
Save
Save
Save
Save
Save
Save
Save
Save
Save
Save
Save
Save
Save
Save
Save
Save
Save
Save
Save
Save
Save
Save
Save
Save
Save
Save
Save
Save
Save
Save
Save
Save
Save
Save
Save
Save
Save
Save
Save
Save
Save
Save
Save
Save
Save
Save
Save
Save
Save
Save
Save
Save
Save
Save
Save
Save
Save
Save
Save
Save
Save
Save
Save
Save
Save
Save
SaveSve
Save
Save
Save
Save
Save
Save
Save
Save
Save
Save
Save
Save
Save
Save
Save
Save
Save
Save
Save
Save
Save
Save
Save
Save
Save
Save
Save
Save
Save
Save
Save
Save
Save
Save
Save
Save
Save
Save
Save
Save
Save
Save
Save
Save
Save
Save
Save
Save
Save
Save
Save
Save
Save
Save
Save
Save
Save
Save
Save
Save
Save
Save
Save
Save
Save
Save
Save
Save
Save
Save
Save
Save
Save
Save
Save
Save
Save
Save
Save
Save
Save
Save
Save
Save
Save
Save
Save
Save
Save
Save
Save
Save
Save
Save
Save
Save
Save
Save
Save
Save
Save
Save
Save
Save
Save
Save
Save
Save